A generalized family tree based on the work of past researchers is provided elsewhere in this series. That tree shows roughly how most authors have drawn the relationships between the Walker, Handley and Cowan families. We now know, based on a critical analysis of the Indian Captivity Stories associated with these families, coupled with YDNA evidence, that while this tree is partially correct, it is in error with regard to several key relationships. In particular, we now know that
1. Major John Cowan, son of Samuel Cowan and Ann Walker, married Agness Martin.

2. The Major John Cowan who is supposed to have married Mary Walker, did not in fact exist

3. The Cowans who settled in "the Shadow of the Chilhowee" in Blount County, and later moved to Franklin Co, TN, are in fact closely related to William Cowan who settled on the Little River in Blount County.

The following diagram shows the relationships between the Cowan, Walker, and Handley families, as they are now understood.
Insert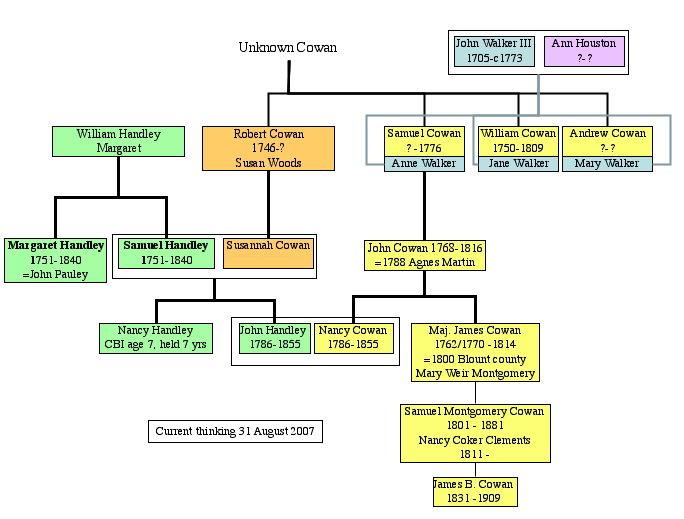 .
Ad blocker interference detected!
Wikia is a free-to-use site that makes money from advertising. We have a modified experience for viewers using ad blockers

Wikia is not accessible if you've made further modifications. Remove the custom ad blocker rule(s) and the page will load as expected.