Source: Maxwell's History and Genealogy XXXX:301, citing Draper MSC 4 XX 41.
Text:William Cowan was one of Capt. Samuel Handley's party when attacked by Indians at Crab Orchard...Wm. Cowan, an uncle of Mrs. Handley, and a man of great interpidity, from a hollow tree near by shot Red Bird through the Belly---one of the 4 with tomahawks to kill Capt. H. (He was carried on a litter to Wills'g &rec'd). Some of the warriors started in pursuit of Cowan---he was swift footed & soon outstripped his pursuers.
Commentary: William Cowan is probably the same William Cowan who married Jane Walker, daughter of John Walker III. The "Mrs. Handley" referred to in the text, was Susannah Cowan, the wife of Captain Samuel Handley who lived near the Blockhouse in Blount County. Susannah was the daughter of Robert Cowan and Susan Woods. This suggests that William Cowan was Robert Cowan's brother. The phrase "He was carried on a litter to Wills'g &rec'd", might be better rendered as "He (Samuel Handley) was carried on a litter to Willstown and recovered." Willstown was one of the Cherokee towns. This event apparently occurred near Crab Orchard, on the edge of the Cumberland plateau, a few miles west of Blount County. This Crab Orchard is not to be confused with Crab Orchard Kentucky, through which Ann Walker Cowan, sisterinlaw of William Cowan, was seen on her return from captivity about 1783. This similarity in place names may be another contributing factor in the confusion that has arisen concerning the family history of the Cowan's and Walkers.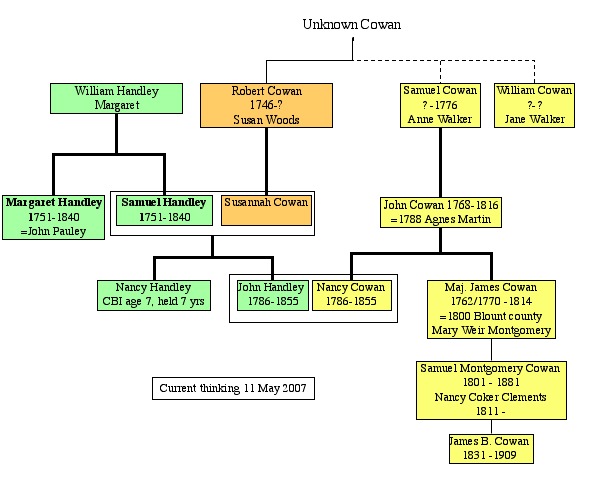 Ad blocker interference detected!
Wikia is a free-to-use site that makes money from advertising. We have a modified experience for viewers using ad blockers

Wikia is not accessible if you've made further modifications. Remove the custom ad blocker rule(s) and the page will load as expected.