Ad blocker interference detected!
Wikia is a free-to-use site that makes money from advertising. We have a modified experience for viewers using ad blockers

Wikia is not accessible if you've made further modifications. Remove the custom ad blocker rule(s) and the page will load as expected.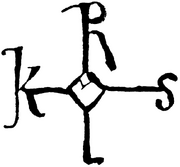 Introduction
Edit
There are two main sections to the page:
"To be done" lists the live tips of the branches of Charlemagne's family tree.
"Difficulties" lists the tips of branches that seem to have vanished in the mists of time. (Dead tips are not listed here.)
Generations 1-10 are largely complete: generally each known individual has a page on Familypedia, listing all their known children. We are now adding pages for generation 11.
See Count of descendants on Familypedia, per generation.
An individual's "Order of Charlemagne" (the generation number) appears in the list of facts at the bottom of the sensor page for the individual, after the necessary number of "saves" of pages in the chain that determines the number. Because of this automatically-upgraded property, there is no further need for the categories that we formerly used for indicating a person's generation number.
kosomko
Suggestions
Edit
Creating shortest lines first
Edit
Living people interested in their "generation number" will want to know the shortest line. A little unpredictable; but the children of the youngest person in a generation are likely to be part of the shortest line for most people who have multiple lines.
See also the sources subpage for longer list

Some sources of facts or assumptions that are easy to find and work from (but are not necessarily correct); sites that may be fairly comprehensive, at least for early centuries
Medieval Lands - a detailed study of "contemporary" and later documents, with the results arranged by territory and period and family, and interlinked
Descendants of Charlemagne 2 - outline descendant tree going for over ten generations in some lines but with several gaps
Charlemagne on Ton Deunhouwer's file of 100,000 "descendants" - "Allowed copying data and persons (under construction) for own risk!!!!!!!." - Descendants listed are stated to be as follows (our generation number followed by number): 2/11, 3/14, 4/23, 5/35, 6/57, 7/83, 8/98, and so on up to 43/10 (totalling 20,605); Familypedia has more for the first few generations and is likely to have more for the rest as time goes on.
Hull University Royals site - © 1994-2005 Brian Tompsett; likely to be accurate for each individual listed, but gives Charlemagne only 18 children at present and is primarily interested in Royalty
Dutch descendants of Charlemagne - several well-researched lines, some in English with few Dutch components; probably not exhaustive
Herbert Stoyan's "complete list of the first 13 generations (according to E. Brandenburg) and later generations" - Familypedia has found a few gaps in it - now defunct
thePeerage.com - over 400,000 individuals (British and Continental European, not necessarily descended from KdG), with links to parents, spouses, and children, based on sources such as "Burke" and "Cokayne"
Genealogics by Leo van de Pas
e-familytree.net, a compilation, by Rob Salzman of Oregon, of over 750,000 people linked somehow to Charlemagne; clearly far from comprehensive (though it may contain more descendants), because it gives him only one child.
Genealogie Mittelalter now defunct
Please tell us if you find another good-looking source.
Ideally any relationships shown should be compared over many such "sources", with specific webpage references listed under "Sources" or "External links" or "References" for other users to check and go beyond.
See the others subpage for small sample comparing children numbers from some of the above.
In progress
Edit
(People whose children do not yet all have individual pages on Familypedia, but whose ancestral connection to Charlemagne is completely documented here)
Generation 11
Edit
(See also Descendants of Charlemagne (Generation 11))
Generation 12
Edit
(See also Descendants of Charlemagne (Generation 12))
Generation 13
Edit
(See also Descendants of Charlemagne (Generation 13))
Generation 14
Edit
(See also Descendants of Charlemagne (Generation 14))
Generation 15
Edit
(See also Descendants of Charlemagne (Generation 15))
Generation 16
Edit
(See also Descendants of Charlemagne (Generation 16))
Generation 17
Edit
(See also Descendants of Charlemagne (Generation 17))
Generation 18
Edit
(See also Descendants of Charlemagne (Generation 18))
Generation 19
Edit
(See also Descendants of Charlemagne (Generation 19))
Generation 30
Edit
(See also Descendants of Charlemagne (Generation 20))
Difficulties
Edit
Disputed descendants
Edit
Without a trace
Edit
Generation 5
Edit
(See also Descendants of Charlemagne (Generation 5))
Generation 6
Edit
(See also Descendants of Charlemagne (Generation 6))
Generation 7
Edit
(See also Descendants of Charlemagne (Generation 7))
Generation 8
Edit
(See also Descendants of Charlemagne (Generation 8))
Generation 9
Edit
(See also Descendants of Charlemagne (Generation 9))
Arduino II d'Ivrea (?-?) x Willa II of Tuscany (?-?), apparently the ancestors of the counts of Canavese
Velasquita of Pamplona (?-?) three marriages, but no recorded children -- may be the ancestor of the counts of Biscaya
Mathilde von Schweinachgau (?-?) children unclear
Generation 10
Edit
(See also Descendants of Charlemagne (Generation 10))
Generation 11
Edit
(See also Descendants of Charlemagne (Generation 11))
Generation 12
Edit
(See also Descendants of Charlemagne (Generation 12))
Laugier of Apt (c1030-c1077), children unknown
Hugh de Seton (c1060-c1107), known descendants, but no record of children
Generation 13
Edit
(See also Descendants of Charlemagne (Generation 13))
Amadee de Coligny (c1145-1222), children unknown
Generation 14
Edit
(See also Descendants of Charlemagne (Generation 14))
Hugues de Coligny (c1163-1205), children unknown
Charlemagne's descendants
Edit
Complete as far as we know
Edit
As complete as we can get it
Edit
Under construction
Edit
References
Edit