Ralph Freudenberg (1903-1980) was a typesetter for the New York Times. (b. February 11, 1903; 220 Madison Street, Hoboken, Hudson County, New Jersey, 07030-1951, USA - d. February 28, 1980, 7:21 am; Jersey City Medical Center, Jersey City, Hudson County, New Jersey, USA) Social Security Number 157108647.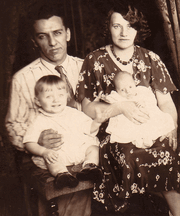 Eloise and Max had 15 children, 9 lived to adulthood, and 5 of them had children and grandchildren. One child that died at birth has still not been found. The children were:
Jersey City, New Jersey
Edit
His parents were living at 51 Booraem Avenue in Jersey City in 1905 and in 1907 they were living at 22 Hopkins Avenue.
First marriage
Edit
On February 16, 1921 Ralph married Nora Belle Conklin (1902-1963) in Orange County, New York. Her family had moved down from Westbrookville in Sullivan County, New York to Jersey City in New Jersey. Nora was the daughter of Herman Conklin (1865-?) and Nora Belle Conklin (1902-1963) aka Belle Piatt. Ralph and Nora lived with Ralph's mother at 61-63 Concord Avenue in Jersey City after they married.
Both of the children moved up to Westbrookville after their mother died.
New York Times
Edit
In 1935 when Ralph's mother died the family was living at 134 Beacon Avenue in Jersey City and in 1937, when he applied for a Social Security number, Ralph was living at 157 Carlton Avenue in Jersey City and working for the New York Times in New York City.
Second marriage
Edit
After his wife Nora died, he married Wladyslawa Joan Dombrowska (1916-1995) aka Lottie Dombrowska, a seamstress whose parents were from Poland. They married around 1964-1965. Ralph was a lover of model trains and had them set up in his basement.
He died in 1980 of a heart attack while he was living at 640 Palisade Avenue in Jersey City and he is buried in Hillside Cemetery in Lyndhurst, New Jersey.
He was buried in Hillside Cemetery in Lyndhurst, Bergen County, New Jersey.
Memories about Ralph Freudenberg
Edit
Nora Freudenberg Terwilliger writes on Thursday, November 15, 2007: I remember my grandfather, my grandmother died before I was born which was October 11, 1963. So she must of died months before I was born. I loved my Poppie he would always hide a buck around the house for me. And I would have fun trying to find it. I loved his house it was really nice and the back yard was so pretty. He loved taking care of his flowers & yard. It was always fun to go to poppies house. My dad took after his dad, he too loved to take care of his place.
External links
Edit
Ad blocker interference detected!
Wikia is a free-to-use site that makes money from advertising. We have a modified experience for viewers using ad blockers

Wikia is not accessible if you've made further modifications. Remove the custom ad blocker rule(s) and the page will load as expected.