Emma Siggins White references the Joel Walker Record (JWR) as the primary source for the early ancestry of the Walker family presented in "Descendants of John Walker of Wigton Scotland..." (White 1902:1)
According ot White:
"Joel Walker, of Ohio...kept a record of the Walker family, and from this Andrew Walker of McDonough Co, Ill, made a copy in 1856. This record covered a period of one hundred and fifty years, and furnished the foundation for the present work. The Joel Walker record states that "in the Walker ancestry the name extend back only three generations, when it looses itself in the Rutherford family then farther back than we have any authentic information of the Rutherfords in the line of ancestry are the Alleines."
While White provides considerable primary source information relating to the family, in the form of letters, wills, and extracts from various public records, she does not explain specifically what information came from the Joel Walker Record (JWR). According to White, Joel was the son of Samuel Walker (1714-1793) and Jane Patterson (Need Dates), who settled near Natural Bridge in modern Rockbridge County. His line of descent is shown below. Joel apparently moved from the Natural Bridge area probably c1800, relocating to Ohio, and later to Iowa. Presumably his knowledge of the family came from his interactions with his father Samuel. The JWR is quoted by White as saying that the family surname only goes back three generations. This is ambiguous, as we do not know what starting point was being referred to. If the quote comes from the hand of Joel Walker, rather than Andrew Walker, this might be interpreted as meaning that the earliest Walker in the record is John I.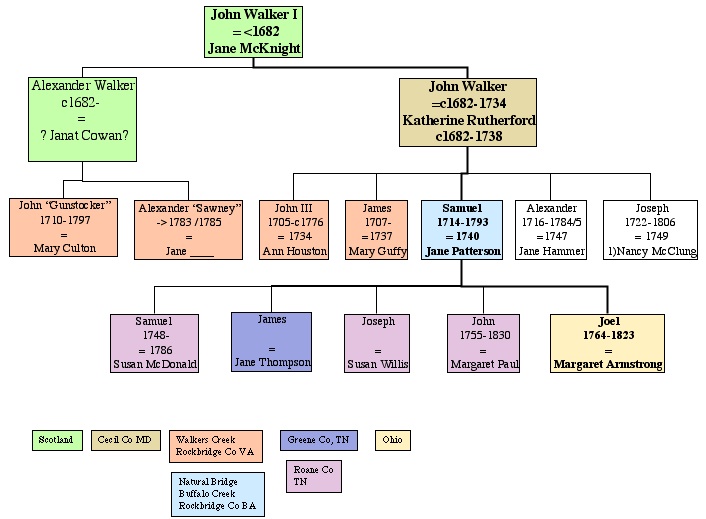 References
Edit
1. White, Emma Siggins, 1902. Descendants of John Walker of Wigton Scotland and Some Allied Families.
Ad blocker interference detected!
Wikia is a free-to-use site that makes money from advertising. We have a modified experience for viewers using ad blockers

Wikia is not accessible if you've made further modifications. Remove the custom ad blocker rule(s) and the page will load as expected.