Ad blocker interference detected!
Wikia is a free-to-use site that makes money from advertising. We have a modified experience for viewers using ad blockers

Wikia is not accessible if you've made further modifications. Remove the custom ad blocker rule(s) and the page will load as expected.
Reinhart Brecht
was born
3 April
1827
in
Alsace-Lorraine
,
Germany
to
Bernard Brecht (1795-1863)
and
Katherine Horeweddel (1807-)
and died
18 November
1912
in
Norway
,
Iowa
,
United States
of unspecified causes. He married
Catherine Wagner (1842-1923)
1862 in
Coshocton
,
Ohio
,
United States
. Ancestors are from
Germany
.
Children
Offspring of Reinhart Brecht and Catherine Wagner (1842-1923)
Name
Birth
Death
Joined with


Mary Brecht (1863-1944)
August 1863 Ohio, United States
1944 Iowa, United States
John Joseph Pickart (1860-1942)


Martha Brecht (1865-1936)
August 1865 Ohio, United States
1936 Iowa, United States
Joseph F. Kuen (1856-1933)


Joseph Reinhart Brecht (1867-1944)
October 1867 Ohio, United States
29 July 1944 Iowa, United States
Anna Ockenfels (1875-1954)


John Brecht (1869-1942)
21 August 1869 Ohio, United States
1942 United States


Sarah Brecht (1871-1920)
July 1871 Iowa, United States
1920 Norway, Benton County, Iowa, United States


Michael Brecht (1874-1863)
8 November 1874 Norway, Benton County, Iowa, United States
15 February 1963 United States
Rosa M. Hasley (1878-1966)


Bernard Brecht (1876-1955)
1876
1955 United States


Adelheid Brecht (1879-1964)
12 May 1879 Norway, Iowa, United States
1 August 1964 Murray County Memorial Hospital, Slayton, Minnesota, United States
Peter Paul Ockenfels (1868-1938)


Louis Brecht (-)
United States
A Leonard J. Brecht (1867-) was born to a Rinehart Brecht in Coshocton, Ohio on 07 Oct 1867. The mothers name was Margaret, though. Was there a second Rinehart Brecht in the area?
Name variations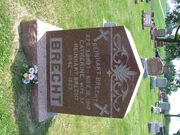 Rhinehart, Rinehart, Rheinhart
Biography
Born in the Alsace Lorrain area of Germany, Reinhart moved to Ohio where he met and married Cahterine Wagner. Their first four children were born there before the family moved to Norway, Iowa. Another four children were born there and the Brecht family name is still present in both locations.
Parents
According to Family Search, but not proven elsewhere:
Also spelled Bernhard
Also spelled Anna Catharina Horwedel
Siblings
Birth
Locations listed:
Rheinsheim, Karlsruhe, Baden
Gallery
Sources and notes
| | |
| --- | --- |
| Ω Birth | Centennial History of Norway, Iowa.+Headstone |
| | |
| --- | --- |
| ₪ Wedding | Centennial History of Norway, Iowa. |
Contributors