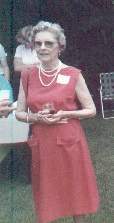 Rennie Cringan Trimble (1919-1994)
Sex:
Female
Birth:
Jan. 22, 1919, in Altadena, California
Death:
Nov. 5, 1994, in Toronto, Ontario, Canada
Father:
William Burbage Smyth Trimble
Mother:
Agnes Rennie Cringan
Name
Birth
Death
Children of PARENTS NAMES

























Cringan was the first of two children of William Burbage Smyth Trimble (?-1919) and Agnes Rennie Cringan, and the first granddaughter, second of 25 grandchildren of Alexander Thom Cringan and Lillias Rennie Waugh.
References
Edit
Ad blocker interference detected!
Wikia is a free-to-use site that makes money from advertising. We have a modified experience for viewers using ad blockers

Wikia is not accessible if you've made further modifications. Remove the custom ad blocker rule(s) and the page will load as expected.