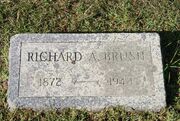 Richard Arlington Brush (1874-1944) was a carpenter. (b. October 1872, Smithtown, Suffolk County, New York, USA - d. January 06, 1944, Hauppauge, Suffolk County, New York, 11788, USA)
He had the following sibling: Blanche M. Brush (1880-?).
First marriage
Edit
Richard married Mary Esther Lattin (1875-1895) on October 15, 1894.
Second marriage
Edit
After Mary's death he married her sister: Catherine Lavinia Lattin (1878-1964). The marriage was on December 25, 1896.
They had the following children: Ethel Louise Brush (1898-1991) who married Harry Halstead McPheeters (1892-1960); Dorothy Esther Brush (1900-aft1930); Arlington L. Brush (1902-?); and Richard Kenneth Brush (1909-1994) who married Chrystal Victorine Jenkins (1908-1990).
Smithtown, New York
Edit
Richard and his parents, and his grandmother, Hannah X (1811-?), appear in the 1880 US Census living in Smithtown in Suffolk County, New York. In the 1930 US Census for Smithtown, Richard is working as a carpenter and owns his home on 289 Hauppauge Road valued at $6,000. Living at home is Richard Kenneth Brush who was working as a carpenter and Dorothy Brush who was working as a teacher.
Hauppauge Rural Cemetery, Hauppauge, New York
External links
Edit
References
Edit
Ad blocker interference detected!
Wikia is a free-to-use site that makes money from advertising. We have a modified experience for viewers using ad blockers

Wikia is not accessible if you've made further modifications. Remove the custom ad blocker rule(s) and the page will load as expected.