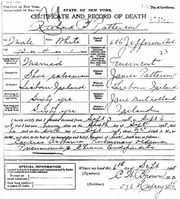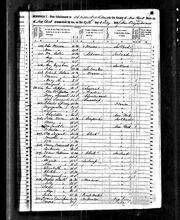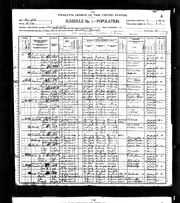 Richard B. Patterson I (1835-1908) Shoe Salesman (b. May 05, 1835, Lisburn, Ireland - d. September 06, 1908, Brooklyn, Kings County, New York City, New York, USA)
He was born in 1835 in Lisburn, Ireland.
Abigale Patterson (1829-?) who worked as a "tailoress" in 1850
Anne Patterson (1831-?) who worked as a "tailoress" in 1850
Elizabeth Patterson (1837-?)
Margaret Patterson (1841-?)
Emigration
Edit
Richard had emigrated with his parents and siblings, leaving from Dublin, Ireland and arriving in New York City on October 22, 1847 on the ship "Thetis". They appear in the 1850 census living in Manhattan.
He married Cornelia Augusta Betts (1837-1917) on September 19, 1856 in Brooklyn in New York City.
Citizenship
Edit
He became a citizen on October 16, 1860 and his witness was Jonas Amos Martin (1821-1862).
New York City
Edit
In 1860 the family was living in Brooklyn and Richard was working as a "printer". In 1870 they were living in Manhattan and Richard was working as a "shoe dealer". The family appears in the 1880 living in Manhattan. And in 1900 they are living in Brooklyn again. The 1900 census states they had 7 children with 7 living and they were living with a granddaughter, Cornelia Patterson who was born in 1880 or 1881 in Pennsylvania. They were living at 1090 Madison Street in Brooklyn in 1900 and Richard was working as a "salesman", most likely still selling shoes.
He died on September 06, 1908 in Brooklyn, New York City. He was 73 years old and his death certificate was number "17192". He died of "cardiac asthenia" with "pulmonary edema".
Funeral notice
Edit
New York Times; September 09, 1908, Wednesday: "Patterson, 686 Jefferson Avenue, Brooklyn. September 6, Richard B. Patterson"
He was buried in Green-Wood Cemetery on September 09, 1908.
External links
Edit
Ad blocker interference detected!
Wikia is a free-to-use site that makes money from advertising. We have a modified experience for viewers using ad blockers

Wikia is not accessible if you've made further modifications. Remove the custom ad blocker rule(s) and the page will load as expected.