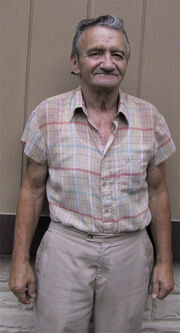 Richard Charles Freudenberg II (1932-2006) worked for 20 years at American Can Company in Jersey City, New Jersey; and 20 years at C & D Battery in Huguenot, New York. (b. July 03, 1932; Jersey City, Hudson County, New Jersey - d. August 20, 2006; Bon Secours Community Hospital, 160 East Main Street, Port Jervis, Orange County, New York, 12771, USA) Social Security Number 148260384.
His obituary appeared in the Sullivan County Democrat:
Richard Freudenberg. Retired Company Worker., 74. Richard "Dick" Freudenberg of Westbrookville, a 30-year area resident, died Sunday, August 20, 2006 at Bon Secours Community Hospital. He was 74. He was born July 3, 1932 in Jersey City, New Jersey, the son of the late Ralph and the late Nora Conklin Freudenberg. Richard worked for 20 years at American Can Company in Jersey City, New Jersey. He went on to work for 20 years at C & D Battery in Huguenot. A family statement read, "Dick loved to take care of his home and he especially loved mowing his lawn." Surviving are his wife, Marilyn Heyny Freudenberg of 54 years, at home; son, Richard Freudenberg and his wife Catherine of Seattle, Washington; daughters, Susan Williams and her husband Robert of Henderson, Nevada, Nora Terwilliger and her husband Thomas of Westbrookville, Jennifer Chrisinger and her husband, Ken of Cuddebackville; nine grandchildren, Judy, Kurt, Elissa, Chelsea, Matthew, Zoe, Zak, Xander and Xaria; a great-grandson, Juward; and nieces and nephews. Funeral services were held Wednesday at the Gray-Parker Funeral Home with the Reverend Richard Kurisko of Foursquare Gospel Church, Middletown officiating. Cremation was made at H.G. Smith Crematory, Stroudsburg, Pennsylvania
Memories about Richard Charles Freudenberg
Edit
Nora Freudenberg Terwilliger My dad wasn`t always nice when I was a child, but I like to remember the good times. Fixing my car and painted it. He liked to work on cars ! He was funny too. Made me laugh. He lent me money when I needed it. Every time I smell fresh cut grass I think of you dad ! You are missed !
External link
Edit
Ancestors
Edit
Ad blocker interference detected!
Wikia is a free-to-use site that makes money from advertising. We have a modified experience for viewers using ad blockers

Wikia is not accessible if you've made further modifications. Remove the custom ad blocker rule(s) and the page will load as expected.