Richard Gardiner
was born before
1600
in
Harwich
,
Essex
,
England
and died after
1623
in at sea or in England of unspecified causes.
",51.944" can not be assigned to a declared number type with value 51.945.
",1.289" can not be assigned to a declared number type with value 1.29.

Passenger on the 1620 Mayflower and early settler of Plymouth Colony.
Biography
Edit
He listed in the 1623 land census and Gov Bradford states that he became a seaman and died elsewhere. No known descendants. Signer #37 of 41 of the Mayflower Compact.
Place of Birth - Harwich, Essex Mariner.
Vital Records
Edit
Bradfords Passenger List
Edit
Ca. 1651 listing by Gov Wm Bradford of Mayflower passengers.
Richard Gardiner became a seaman, and died in England, or at sea.
Pilgrim Monument
Edit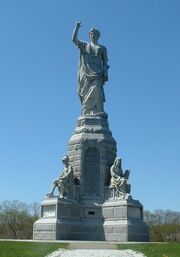 National Monument to the Forefathers, commemorates the Mayflower Pilgrims, (including this person) who came to Plymouth Colony in 1620 on the Mayflower. Dedicated on August 1, 1889, it is thought to be the world's largest solid granite monument. Located on an 11 acre hilltop site on Allerton Street in Plymouth, Massachusetts.
References
Edit
Ad blocker interference detected!
Wikia is a free-to-use site that makes money from advertising. We have a modified experience for viewers using ad blockers

Wikia is not accessible if you've made further modifications. Remove the custom ad blocker rule(s) and the page will load as expected.