Rob D. Gorman
was born
22 April
1876
to
Christopher Darius Gorman (1846-1932)
and
Mary Allen Rogers (1845-1939)
and died
27 February
1967
of unspecified causes. He married
Rosa Cathrine Loomis (1878-1969)
15 July 1897 . Ancestors are from the
United States
,
Canada
,
Ireland
.
Siblings
Children
OVERVIEW
Genealogical keynotes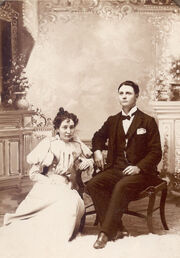 Vita
Born: April 22, 1876
Birth Place: Manawa, Waupaca County, Wisconsin
Married: July 15, 1897
Died: February 27, 1967
Burial: Shady Cove, Jackson County, Oregon
Ancestry
Rob is the son of Christopher Darius Gorman (1846-1932) and Mary Allen Rogers (1845-1939)
Spouse(s)
Family history
Alternative interpretation
Records
Footnotes (including sources)
Contributors
References
Research needs
Page needs
Contributor
Ad blocker interference detected!
Wikia is a free-to-use site that makes money from advertising. We have a modified experience for viewers using ad blockers

Wikia is not accessible if you've made further modifications. Remove the custom ad blocker rule(s) and the page will load as expected.