Vital Statistics
Edit
Offspring
Edit
Biography
Edit
1860 Farmer, $2500 Real Estate value, $4965 Personal Estate value
1870 Farmer, $15000 Real Estate Value, $6000 Personal Estate value

Birth:
Date:11 NOV 1819
Location:at Virginia, USA

Burial:
Location:at Alamo Cemetery, Alamo, Contra Costa Co., CA // Plot: 37/55 Verbena

Death:
Date:07 DEC 1876
Location:at San Ramon Valley, Danville, CA

Wife: Armelia Harvey (1823-1900)
Marriage: :
Date:1845

Notes:
External links
Edit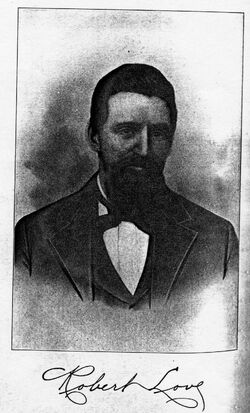 Contributors
Edit
Findagrave.com
Database online. Township 4, Contra Costa, California, ED , roll T624_75, part , page . Ancestry.com 1910 United States Federal Census Name: The Generations Network, Inc.; Location: Provo, UT, USA; Date: 2006;
Ad blocker interference detected!
Wikia is a free-to-use site that makes money from advertising. We have a modified experience for viewers using ad blockers

Wikia is not accessible if you've made further modifications. Remove the custom ad blocker rule(s) and the page will load as expected.