"File::RoberHester1857 scans02 067 detail.jpg" cannot be used as a page name in this wiki.
Note: This is not Robert Hester born ca 1857 with a brother Wyatt and parents Joseph and Mary. For other Robert Hesters living in Texas born in the 1850s, see Robert Hesters born 1850s
Robert Fulton Hester
In 1910, Robert Hester is listed as a Widower in the US Census. In 1911, Robert remarries to Susan Lowrie (listed as "Sudie" in the 1920 Census).
75th birthday
According to the newspaper account, attending his 75th birthday were: His wife, Mrs. W. W. Williams and family, Mrs. J. E Stockton and Mr. Stockton, Mrs. G. D. Owens, and Miss Juanita L. Hester. Grandchildren included Mrs. Marvin Shaw, Mrs. Otis Blackwelder, Mrs. L. D. Burleson, Misses Theresa and Norma Stockton, Ruby Lee, Gladys Mae, Wanda and Thelma Williams, Messrs Boyce, Robert Derrill, Carlos Donald and Kenneth Stockton. Douglas Roberson, Ed Williams and Frank Riggs. Great grandchildren were Luther, Cecil, and Evelyn Shaw. Donald and Dwaine Burleson, and Bessie Mae and Myrtle Blackwelder.
Children
Residences
1880 Precinct 2, Bell County, Texas in the home of Mary Darden with wife Alice E. Hester
1910 Justice Precinct 2, Dawson County, Texas
Among other titles, Robert owned 115 acres in the Bexar district of Dawson County, Texas ( Survey/Blk/Tsp: E.Mid.Pt 38 W.E.Smith C41-)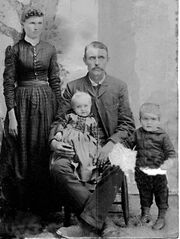 Residences
Footnotes
Unless indicated otherwise, data is from Federal Censuses and may be verified by performing searches on them.
Footnotes (including sources)
| | |
| --- | --- |
| Ω Birth | The notation on the back of a group family photo gives the date of 10/10/1934, and that it was of Robert's 75th Birthday. This would make his birth year 1859, not 1857 as previously assumed. |
¢ Children

Familysearch says Willis Hester born to Alice Dardin died 1908 in O'Donnell, TX

Famsearch reports Jesse born Wilson, Comanche, Texas, but 1880 census says Jesse age 1 is at Bell Texas

Information on Alice Dardin children may be found by searching on www.familysearch.com <FAM>search for father= Robert Hester, Mother= Alice Dardin
| | |
| --- | --- |
| ¢2 Children 2 | There is a possibility there was an Ethyl born 1891. There certainly was an Ethyl born ca 1905, died 1971. |