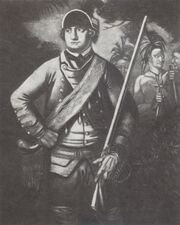 Genealogical Keynotes
Edit
Robert is the son of James Rogers (1706-1753) and Mary McFactridge (1705-1772)
Spouse(s)Edit
Child List
Edit
Family History
Edit
Military ServiceEdit
Robert was in command of his famous Rogers Rangers in the french and Indian War. He survived small pox and several wounds including a bullet that grazed his head. The movie Northwest Passage staring Spencer Tracy as Robert Rogers depicts the famous attack on the Abinaki village in 1759.
References
Edit
Research Needs
Edit
Page Needs
Edit
Contributors
Edit
William Gorman (5th Great Grandnephew)
Ad blocker interference detected!
Wikia is a free-to-use site that makes money from advertising. We have a modified experience for viewers using ad blockers

Wikia is not accessible if you've made further modifications. Remove the custom ad blocker rule(s) and the page will load as expected.