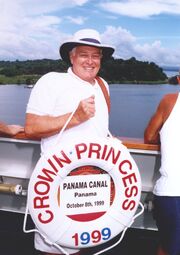 Genealogical keynotes
Edit
Robert "Bob" is the son of Leland "Ted" Winfred Gorman (1906-1989) and Marion Alice Caven (1910-2004)
Spouse(s)
Edit
Child list
Edit
Living daughter Danna Gorman
Living son Bruce Gorman
Living son Ron Gorman
Family history
Edit
Bob was the top swimmer on the Navy Swim Team in the early 1950's. He claimed to have beaten swimmers returning from the Olympics.
Alternative interpretation
Edit
References
Edit
Research needs
Edit
Page needs
Edit
Contributors
Edit
Ad blocker interference detected!
Wikia is a free-to-use site that makes money from advertising. We have a modified experience for viewers using ad blockers

Wikia is not accessible if you've made further modifications. Remove the custom ad blocker rule(s) and the page will load as expected.