Ad blocker interference detected!
Wikia is a free-to-use site that makes money from advertising. We have a modified experience for viewers using ad blockers

Wikia is not accessible if you've made further modifications. Remove the custom ad blocker rule(s) and the page will load as expected.
Robertson County

,

Tennessee


Location in the state of Tennessee

Tennessee's location in the U.S.
Founded
information needed
Seat
Springfield
Largest city
Springfield
Area
 - Total
 - Land
 - Water

477 sq mi (1,235 km²)
476 sq mi (1,234 km²)
0 sq mi (1 km²), .04%
Population
 - (2000)
 - Density

54,433
114/sq mi (44/km²)
Time zone
Central: UTC-6/-5
Robertson County
is a
county
located in the
U.S. state
of
Tennessee
. The county was named for
James Robertson
, founder of
Nashville
and a state senator. As of 2000, the population was 54,433. Its
county seat
is
Springfield
6
.
Geography
Edit
According to the U.S. Census Bureau, the county has a total area of 1,235 km² (477 sq mi). 1,234 km² (476 sq mi) of it is land and 1 km² (0 sq mi) of it (0.04%) is water.
Adjacent Counties
Edit
Demographics
Edit
As of the census² of 2000, there were 54,433 people, 19,906 households, and 15,447 families residing in the county. The population density was 44/km² (114/sq mi). There were 20,995 housing units at an average density of 17/km² (44/sq mi). The racial makeup of the county was 89.13% White, 8.62% Black or African American, 0.28% Native American, 0.31% Asian, 0.02% Pacific Islander, 0.83% from other races, and 0.80% from two or more races. 2.66% of the population were Hispanic or Latino of any race.
In 2005 the racial makeup of the county was 85.4% non-Hispanic whites, 8.3% African-Americans and 5.3% Latinos.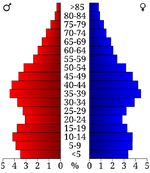 There were 19,906 households out of which 37.40% had children under the age of 18 living with them, 61.90% were married couples living together, 11.20% had a female householder with no husband present, and 22.40% were non-families. 18.60% of all households were made up of individuals and 7.50% had someone living alone who was 65 years of age or older. The average household size was 2.71 and the average family size was 3.06.
In the county, the population was spread out with 26.80% under the age of 18, 8.50% from 18 to 24, 31.40% from 25 to 44, 22.50% from 45 to 64, and 10.80% who were 65 years of age or older. The median age was 35 years. For every 100 females there were 98.80 males. For every 100 females age 18 and over, there were 95.70 males.
The median income for a household in the county was $43,174, and the median income for a family was $49,412. Males had a median income of $34,895 versus $24,086 for females. The per capita income for the county was $19,054. About 6.40% of families and 9.00% of the population were below the poverty line, including 10.90% of those under age 18 and 13.10% of those age 65 or over.
Cities and towns
Edit
References
Edit
External links
Edit
[Robertson County Schools]http://www.robcoschools.org
Coordinates: 36°32′N 86°52′W / 36.53, -86.87