Ad blocker interference detected!
Wikia is a free-to-use site that makes money from advertising. We have a modified experience for viewers using ad blockers

Wikia is not accessible if you've made further modifications. Remove the custom ad blocker rule(s) and the page will load as expected.
Roger Martin
was born
1753
to
Thomas Martin (1719-)
and
Elizabeth or Sarah Goodwin (c1719-)
.
Children
The name of Roger is very rare in the Martin family. A search through the records of Hockley does not reveal any Martin families in that town prior to 1786. The only Roger in the IGI is the one bpt. in Sudbury in 1753. This Roger Martin then disappears from the Sudbury records (as do most of his Martin relatives) and a Roger Martin appears in Hockley. Unfortunately, no marriage record or other link has been found to firmly attach Roger of Sudbury with Roger of Hockley, although Roger naming his oldest son after his father Thomas makes a good case for this link.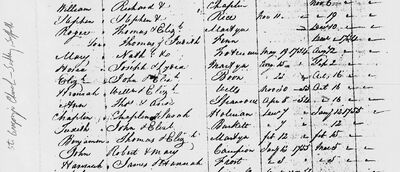 Name
Birth
Death
Children of Roger and Mary Martin




Thomas Martin (1786-1844) of Southminster, Essex
bpt. 23 July 1786
Hockley, Essex
bur. 4 Jan. 1844
Southminster, Essex




Mary Ann Martin
bpt. 3 July 1791
Hockley, Essex






Henry Martin
bpt. 3 July 1791
Hockley, Essex
bur. 16 Sept. 1862
Southminster, Essex
References
Parish Registers- Hockley, Southminster, Sudbury
Sources and notes
Contributors