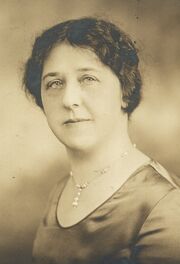 Rosemund Feltner (1880-1952) aka Rose Feltner (b. April 30, 1880; Manhattan, New York City, New York, USA - d. December 19, 1952; New York, USA)
April 30, 1880 in Manhattan, New York City, New York.
Anna M. Feltner (1877-c1955) who married Melvin J. Yates on December 31, 1907 in the Bronx; Augusta F. Feltner (1879-1954) who never married; Alma Feltner (1883-1940) who married Edwin Joseph O'Malley (1881-1953); George Henry Feltner (1884-1958) who married Minnie L. Barmore (1884-?) on June 12, 1907 in Brooklyn; Robert H. Feltner (1886-1966); Dorothy Feltner (1889-1948) who married James T. Connors; and Clarence G. Feltner (1891-1960) who married Helen X on March 6, 1915 in Manhattan.
She married Matthew John Donovan (1879-1958) on April 24, 1904 in Manhattan, in New York City. She was listed as "Rosmonde Feltner", and was certificate number "8110".
George Matthew Donovan (1905-1976) who was born on March 5, 1905, married Eleanor M. Goetz on November 01, 1930, and he died on September 6, 1976
Dorothea Donovan, aka Sally Donovan (c1911-c1945) who married Frank Woodruff
December 19, 1952 in New York.
Stuyvesant Falls Cemetery, Stuyvesant, Columbia County, New York, USA
External links
Edit
Ad blocker interference detected!
Wikia is a free-to-use site that makes money from advertising. We have a modified experience for viewers using ad blockers

Wikia is not accessible if you've made further modifications. Remove the custom ad blocker rule(s) and the page will load as expected.