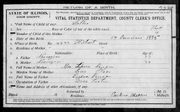 Goldie Jensen (1895-1965) aka Sally Jensen; Telephone Operator and Housewife (b. January 19, 1895; Chicago, Cook County, Illinois, USA - d. August 12, 1965; Chicago, Cook County, Illinois, USA) Social Security Number 326220313.
She was born on January 19, 1895 in Chicago according to her birth certificate. The September 25, 1891 birth date comes from Social Security although other people believe she was born on January 25, 1892 or 1893. Her birth name was Sally but she always went by the name Goldie.
In the 1917 Chicago City Directory, Goldie was listed as working as an "operator" and living at 4940 West Austin Avenue.
She married William Holm (1891-1983) around 1917-1918 and had the following children:
Goldie appears in the 1920 US Census living at 4940 Austin Avenue in Chicago.
She died on August 12, 1965 under the name "Goldie Holm".
Ad blocker interference detected!
Wikia is a free-to-use site that makes money from advertising. We have a modified experience for viewers using ad blockers

Wikia is not accessible if you've made further modifications. Remove the custom ad blocker rule(s) and the page will load as expected.