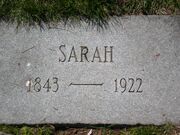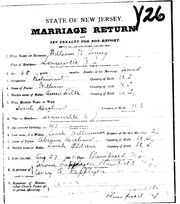 Sarah Kershaw (1843-1922)
Sarah was the daughter of Abraham Kershaw (1815-?) and Sarah Oldrin (1816-1894). By 1872 her father was dead and her mother was still living, most likely in Somerville, New Jersey.
She was born in 1843 according to her marriage certificate.
By 1850 the family was living in Manhattan and she appears in the census with the following siblings:
The family then moved to Somerville, New Jersey by 1865, when she married, and they show up in bank records again in Somerville in 1872.
First marriage
Edit
She married Matthew Williamson (1824-1884) around 1865. He was 19 years older then she was.
Somerville, New Jersey
Edit
In 1880 they were living in Somerville, New Jersey. Matthew was working as a butcher.
Death of husband
Edit
He died on March 20, 1884 in Bridgewater, New Jersey.
Second marriage
Edit
She married William W. Young (1817-?) on August 27, 1885 in Plainfield, New Jersey. He was 26 years older than she was.
She died on February 17, 1922.
She was buried at Fairview Cemetery, Garwood, New Jersey.
Memories about Sarah Young
Edit
External links
Edit