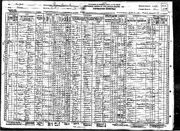 Seymour Klein (1917-2002) Commercial artist (b. June 07, 1917; New York City, New York, USA - d. February 16, 2002; Rego Park, Queens County, New York City, New York, 11374, USA)
He added the letter "L" to his name, but he said it didn't stand for anything.
Harry D. Klein (1885-1945) who worked for United Cigar Company in 1930. He appears to have died on May 1, 1945. The certificate was number "4456".
Bessie Greenstein (1891-1981) who emigrated in 1892 from Russia. She may have been born in 1888 or 1889 according to the oral family tradition.
They had Hedy and Joel.