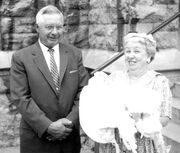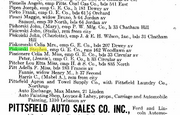 Stephen H. Prasky (1897-1965) aka Stephen H. Piskorski; World War I Veteran and Carpenter; Emigrated from Poland to the USA prior to 1917 (b. December 20, 1897, Poland - d. November 17, 1965, Paul Kimball Hospital, Lakewood, Ocean County, New Jersey, 08701-5281, USA) Social Security Number 577168795.
He was the son of Josephine and Adolph Piskorski.
Emigration
Edit
He emigrated prior to 1917 and served in World War I.
He married Bertha Marie Burke (1902-1971) around 1930-1950 and they lived in Hyattsville, Maryland.
Lakewood, New Jersey
Edit
He moved from Hyattsville, Maryland to Lakewood, New Jersey in 1964.
Funeral notice
Edit
His obituary in the Asbury Park Press from Friday, November 19, 1965 reads as follows:
Stephen H. Prasky, 67, of 17 Bennett Street, a retired carpenter, died Wednesday at Paul Kimball Hospital, Lakewood. He was born in Poland, son of the late Adolph and Josephine Piskorski. He was a member of Local 132, carpenters union, Washington. Mr. Prasky was an Army veteran of World War I. He had moved here one year ago from Hyattsville, Maryland. Surviving are his wife, Bertha Burke Prasky, at home; one daughter, Mrs. Lynn Beck, Westwood, Massachusetts; two stepbrothers, Walter Krzyzanowski, both of Pittsfield, Massachusetts, one grandson, five nieces, and one nephew.
Lynn Beck
Edit
His daughter, Lynn Beck, worked as a burlesque stripper under the name Lynn York. Lynn had a son.
Memories about Stephen Prasky
Edit
Thomas Patrick Norton II (1920-2011) writes: "He was married before. He worked on the construction of the Empire State Building in 1939, and he had a daughter by a previous marriage, and she was a burlesque stripper, whose stage name was 'Lynn York'. When she would come over the house she would sit on the porch with my brother, Jimmy Norton, and all his friends would pass by the porch to see her. Jimmy took our father to see her show and all he could say was 'she's a strong woman'."
Kathy Norton Esposito wrote in 2013: "Uncle Steve was married to Aunt Bertha. It was kind of a scandal when she married him because he was divorced. They lived in Bethesda, Md. for a long time. In the late 60's they moved to Jackson, NJ., a few blocks away from our grandparents. They didn't live there very long when he died. I think he had a heart attack. Bertha lived in the house in Jackson by herself until our grandfather died and then Bertha and May moved in together. They moved to Cedar Glen Lakes in Whiting, NJ. I think Bertha died in 1970/1971 before I got married in Oct. of 71. May lived in Whiting until she died."