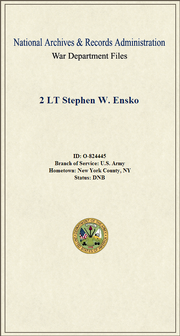 Stephen William Ensko (1922-1944) 2nd Lieutenant, US Army, Killed in Action, World War II, possibly D-Day Invasion (b. 1922, possibly Brooklyn, New York City, New York, USA - d. prior to October 12, 1944, Omaha Beach, Normandy, France) Military Service Number O-824445.
He was the son of Dorothea X (1892-1977) and Stephen Guernsey Cook Ensko (1896-1969).
His siblings include: Dorothea Charlotte Ensko (1920- ) who married Vernon Charles Wyle (1912-1986); and Alice Elizabeth Ensko (1924-1999) who married Alfred E. Woodward II (1913- ) the judge.
He died in 1944.[1]
Cypress Hills National Cemetery, Brooklyn, Kings County, New York, USA.
His name is recorded at the National WWII Memorial in Washington, District of Columbia.
External link
Edit
References
Edit
Ad blocker interference detected!
Wikia is a free-to-use site that makes money from advertising. We have a modified experience for viewers using ad blockers

Wikia is not accessible if you've made further modifications. Remove the custom ad blocker rule(s) and the page will load as expected.