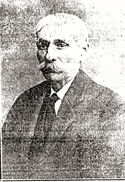 The Tașcă family is a Romanian family of landowners. Several members of the family have made their presence felt in Romanian politics, literature, sciences and arts.
The family traces its roots to the Middle Ages, to a certain Dragoş Cneaz of Giulești in the province of Maramureș documented in 1319. His son, Giulea, Cneaz of Giulești is documented as having moved to Moldavia on September 15, 1349, probably in the suite of voievode Dragoș. For several generations the family still kept its fiefdom in Maramureș. During the reign of Alexander the Good, the family took the name of Giulici, Danciu Giulici being known to have been member of the voievode's council in 1421.
The male part of the family becoming extinct, the lineage was continued through marriage to the Jora family, through Todirașcu Jora, staroste of Tecuci. (1552). In 1606, Marica Jora married Avram Mișihănescu, the lineage being afterwards again transmitted in 1671 by the marriage of Tudosca Mișihănescu to Vasile Balaban. The last of the Balaban's was Great Captain Constantin L. Balaban (1780–1845) who only had two daughters:
Maria Balaban, who married Captain Dumitrache Gh. Tașcă
Paraschiva Balaban who married one of her cousins, Ion Balaban.
Dragoș,
Count of Giulești
(c1345-1384)
Giulă (c1365-c1410)
Danciu Giulici (c1390-c1440)
Giula (Gyula) of Giulești
(1420-c1480)
Ștefan,
Cneaz of Giulești
Iliaș Ceașnic
(c1400-c1450)
Marina Ceașnic
(c1430-c1480)
Giulea,
Cneaz of Giulești
(c1320-c1370)
Tatomir,
Cneaz of Giulești
Dragoș,
Cneaz of Giulești
(c1290-1340)
Dragomir,
Cneaz of Giulești
Costea,
Cneaz of Giulești
Dragomir,
Cneaz of Giulești
Miroslav,
Cneaz of Giulești
Marușca Pântece
(c1460-c1510)
Neacșa Posadnic
(c1485-1540)
Ionașcu Jora (c1510-c1570)
Toader Jora
(c1545-c1600)
Marica Jora
(c1570-c1630)
Ionașcu Mișihănescu
(c1600-c1660)
Coste Posadnic (c1450-c1500)
Todirașcu Jora
(c1475-c1530)
Avram Mișihănescu
(c1560-c1620)
Isac Mișihănescu (c1610-1675)
Ihtimie Mișihănescu
(c1635-c1700)
Tudoșca Mișihănescu
(c1670-c1730)
Todirașcu Balaban
(c1700-c1760)
Ioan Balaban
(c1725-c1812)
Lupu Balaban
(c1750-c1810)
Constantin Balaban
(1780-1845)
Grozava Coroiu
(c1650-c1710)
Vasile Balaban
(c1660-c1720)
Tofana Coroiu (c1705-c1765)
Sanda Pană
(c1730-c1800)
Ioniță (Niță) Tașcă
(1725-1795)
Stan Tașcă
(1750-1838)
Petre Tașcă
(1780-1838)
Ioan Tașcă
(1820-1884)
Gheorghe Tașcă
(1775-1840)
Dumitrache Tașcă
(1800-1857)
Ilinca Maxim
(1824-1851)
Gheorghe I. Tașcă
(1847-1935)
Continues with
branch of
Gheorghe I. Tașcă
Maria Balaban
(1805-1890)
Panaite Tașcă
(1826-1883)
Maria (Marghioala Dabija
(1849-1945)
Ileana Artinov
Iorgu Dabija
(1854-1902)
Ecaterina (Catinca) Tașcă
(1828-1884)
Elena Codreanu
Vasile Dabija
(1818-1865)
Sevastița Dabija
(1860-1947)
Ștefanache Tașcă
Sterian Dimitriu
Ilinca Botez
Ecaterina Dabija
Ion Tașcă (Breahna)
(1840-1891)
Gheorghe Varlaam
Anita Romanița
Natalia Dabija
Toader Tașcă
(1843-1857)
Ion Antonescu
Constatin Silion
Maria's oldest daughter, Catinca Tașcă married sluger Vasile Dabija. Her daughter, Maria (Marghioala) Dabija married again in the Tașcă family. Her husband, Gheorghe Tașcă is considered the patriarch of the modern branch of the Tașcă family.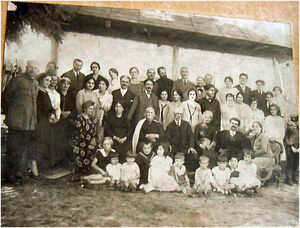 For detailed genealogical tree see Tașcă family/Continued
References
Edit
George-Felix Tașcă - Din descendenţa marelui căpitan Constantin Balaban (1780–1845) - Institutul de Istorie şi Arheologie A.D. Xenopol Iași - Al IV-lea simpozion de studii genealogice 13-15 mai 1993.
* Ştefan Gorovei - Înrudirile cronicarului Grigore Ureche - Anuarul de lingvistică şi istorie literară 1973
Ad blocker interference detected!
Wikia is a free-to-use site that makes money from advertising. We have a modified experience for viewers using ad blockers

Wikia is not accessible if you've made further modifications. Remove the custom ad blocker rule(s) and the page will load as expected.