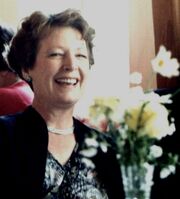 Genealogical Keynotes
Edit
Born: March 31, 1935
Birth Place: Werton, West Virginia
Married: June 9, 1956
Died: March 17, 1989
Burial: Ashes scatered at Hope Creek in Redwood National Park, Humbolt County, California
Arlene is the daughter of George Robert Weston (1911-1974) and Barbara Betty Schady (1912-1986)
Spouse(s)
Edit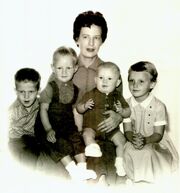 Child List
Edit
Living daughter Gorman
Living son Gorman
Ronald Scott Gorman
Family History
Edit
Her Battle With Cancer
Edit
Arlene was diagnosed with cancer in 1988, she had several tumers removed and they came right back. She died at home on St. Patrick's Day morning.
Alternative Interpretation
Edit
References
Edit
Research Needs
Edit
Page Needs
Edit
Berkely High School Alumni category needs to be removed it was ment for Robert Gorman
Contributors
Edit
Ad blocker interference detected!
Wikia is a free-to-use site that makes money from advertising. We have a modified experience for viewers using ad blockers

Wikia is not accessible if you've made further modifications. Remove the custom ad blocker rule(s) and the page will load as expected.