Rev. Thomas Hooker
was born
9 July
1586
in
Marfield
,
Leicestershire
,
England
,
United Kingdom
to
Thomas Hooker (1553-bef1635)
and
Susanna Unknown (c1564-1631)
and died
7 July
1647
in
Hartford
,
Hartford County
,
Connecticut
,
United States
of unspecified causes. He married
Susannah Garbrand (c1593-1676)
.
Biography
First Founder of Hartford CT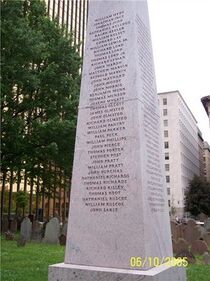 He is listed as one of the first settlers on the Hartford Founders Monument. In 1633, the purtian preacher, Thomas Hooker (1586-1647) revolted against the authority of the English Church, and was forced to sail to America on the ship Griffin with many of his followers.
Finding that place to crowded they moved to the Connecticut River Valley, settling down north of the Dutch Territory in 1636. Here in 1638 they wrote the first constitution in America to create the new Colony of Connecticut (for which they retain their nickname as the Constitution State. Their central city is Hartford CT.
Marriage and Family
Children
Offspring of Rev. Thomas Hooker and Susannah Garbrand (c1593-1676)
Name
Birth
Death
Joined with


Joanna Hooker (1622-1646)


Mary Hooker (c1622-1674)
1622 Esher, England, United Kingdom
4 February 1674 Milford, New Haven County, Connecticut, United States
Roger Newton (1610-1683)


John Hooker (c1618-)


Anne Hooker (c1625-1626)


Sarah Hooker (1628-1629)


Sarah Hooker (1635-1725)
1635 Chelmsford, Essex, England, United Kingdom
20 August 1725 Braintree, Norfolk County, Massachusetts, United States
John Wilson (1621-1648)


Samuel Hooker (1633-1697)


Thomas Hooker (1635-1697)


Alice Hooker (1637-1687)
Footnotes (including sources)
Contributors
  MainTour, Charles Patrick Behre
Ad blocker interference detected!
Wikia is a free-to-use site that makes money from advertising. We have a modified experience for viewers using ad blockers

Wikia is not accessible if you've made further modifications. Remove the custom ad blocker rule(s) and the page will load as expected.