Thomas Martin
Sex:
M
Birth:
1785
Baptism:
11 May 1788 Great Wratting, Suffolk
Death:
bur 4 Jan. 1844 Southminster, Essex
Father:
William Martin (1749-?) of Great Wratting, Suffolk
Mother:
Sarah Sherman
Spouse/Partner:
Mary Shade
Marriage:
29 May 1806 Southminster, Essex

Thomas was a shopkeeper and owned two tenements on the corner of the High St. and the road to Tillingham where he was living in 1840 along with Henry Martin.
The marriage record for Thomas and Mary in the Southminster records lists Thomas as being from the parish of Asheldham, however, a search of these records does not reveal any information. The 1841 census lists Thomas as being born in Essex, however, these "yes" and "no" entries seem to be very unreliable and the tendency seems to have been to enter "Y" unless the person was born a long way away. The clue to the Martin origins lies in Thomas' younger brother Henry who was widowed and was a lodger with Thomas' widow Mary in 1861. Henry in that census gives his place of birth as "suffolk Rattan". In the 1851 census Henry listed his birthplace as "Suffolk Rater". Other Martin males living in the Southminster area gave their birthplaces as "Great Ratten, Suffolk" or "Ratten, Suffolk". A look at the map for Suffolk does not reveil any likely location for "Ratten". BUT, cousin Dr. Chris Haines from West Malling, Kent solved this mystery. Chris' dad was from Norfolk and he states that the East Anglian accent would render the name of "Great Wratting" as "Great Ratten". This village lies at the confluence of the counties of Essex, Suffolk and Cambridgeshire. And, lo and behold, when Chris checked the parish registers for Great Wratting... the entire Martin family is listed.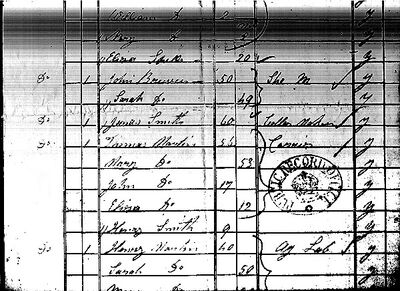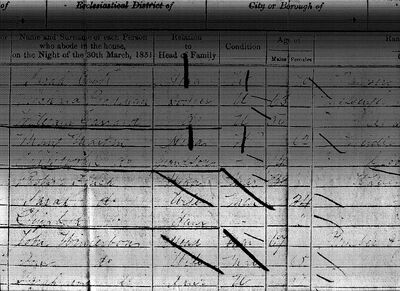 Name
Birth
Death
Children of PARENTS NAMES




Thomas Martin
bpt 15 Sept. 1806
Southminster, Essex
d. young





Thomas Martin
bpt. 20 June 1808
Southminster






Mary Martin
6 Sept. 1811
Southminster






William Martin (1814-aft1865)
4 Mar. 1814
Southminster






Susan Martin
21 Apr. 1817
Southminster






Elizabeth Martin
9 Feb. 1820
Southminster
4 Sept. 1822
Southminster




John Martin
19 May 1823
Southminster






Charles Martin
14 Mar. 1827
Southminster





References
Edit
Asheldham Parish Records- typescript copy at the Society of Genealogists (location of the originals is unknown)

Southminster parish records

1841 & 1851 Census Reports for Southminster

1841 Census Report for Bradwell