Thurston Clarke (1590-1661)
was born on an unknown date .
Biography
1634 Migration to America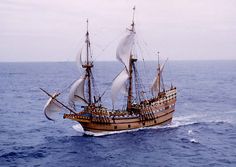 He was a passenger on the English ship Francis, which sailed from Ipswich in 1634, bound for New England. The ship arrived safe at Massachusetts Bay.
Born about 1590 (aged 44 in 1634). Husbandman from Ipswich, Suffolk, who came to Plymouth Colony in 1634 on the "Francis." First settled in Plymouth: moved to Duxbury in 1652.
1661 Snowstorm
Died in Duxbury, 6 Dec 1661. On 8 Dec 1661, a coroner's jury was impanelled to "view the dead body of Thirston Clarke, Senior, of Duxburrow. They concluded that, "the waether being cold and snowy, he came out on that side of Joanes River which is on the Duxburrow side, upon his return from Plymouth, endeavoring to come home, and came near home; and by his track in the snow we find that he had wandered to and fro and lost himself, and did so wilder that he came upon a flat nigh the place called Longe Point upon the said flat, which is now in the possession of Joseph Andrews, and that he was found.... [H]e was lost, as we conceive, in the evening, and so he did bewilder himself, the sixth of this instant December, 1661." Married by about 1617, Faith ____. She died by 1 Jun 1663. Source: Anderson's Great Migration Study Project.
Marriage and Family
Thurston Clarke (1590-1661) married by about 1617, to Faith ____. She died by 1 Jun 1663. They had six children: Faith DOTY, Frances, Mary, Abigail, Thurston, & Henry.
Children
Siblings
References
Residences
Footnotes (including sources)