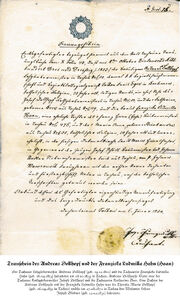 Vital records are records of life events kept under governmental authority, including birth certificates, marriage licenses, and death certificates. In some jurisdictions, vital records may also include records of civil unions or domestic partnerships.
In the United States, vital records are typically maintained under state law by a county clerk, county recorder, or similar municipal-level official.
In the United Kingdom, vital records are recorded in the civil registry.
Various European countries are members of an International Commission on Civil Status which provides a mutually recognized Convention on the coding of entries appearing in civil status documents, with common codes and translation tables between the language of the member states. They also provide an English unofficial translation.
External links
Edit
Ad blocker interference detected!
Wikia is a free-to-use site that makes money from advertising. We have a modified experience for viewers using ad blockers

Wikia is not accessible if you've made further modifications. Remove the custom ad blocker rule(s) and the page will load as expected.