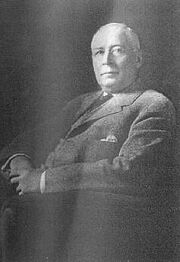 Spouse(s)
Edit
Child list
Edit
Family history
Edit
Waldemar Van Cott (1859) – Attorney, Chairman of the Board of Regents, University of Utah - Son of John Van Cott and Laura Lund.
Waldemar was on the Board of Regents for the University about 1912 and another power for good on the University of Utah campus. Waldemar later became a lawyer, Chairman of the Board of Regents of the University of Utah, and was known for his wisdom, understanding, and love of justice. It was he who had the little, black book published called John Van Cott Genealogy (1060‑1883), that does not tell about John Van Cott, but it does tell about our Van Cott ancestry. Waldemar became a Christian Scientist.
He was a very famous Utah lawyer with a national reputation.
He also was one of senator Reed Smoot's lawyers during Senator Smoot's trial in Washington.
He spent some $13,000 to finance the research which led to the publication of "The Little Black Book" John Van Cott: Genealogy, 1060-1883.
"Walt" was named for a ship, the Valdemar, which brought a boatload of Mormon Saints from the Scandinavian Mission.
References
Edit
http://www.answers.com/topic/waldemar-van-cott-jpg
Contributors
Edit