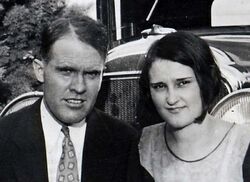 1,931
:
Walter Hester (1893)
and
Essie Sewell (1912)
courting.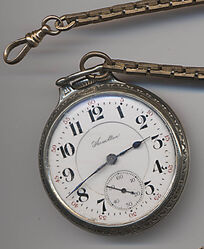 1,931
: Railroad conductor watch issued to
Walter Hester (1893)
by the (
Santa Fe Railroad
). He used a Hamilton 992, if not this very Hamilton from 1931 until his retirement in the 1960s.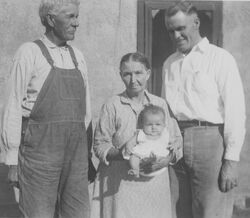 1,934
: Walter Hester's visit to the Hester farm in O'Donnell to show the newborn daughter to his father.

1,935: Obituary from "The Index" newspaper (probably from O'Donnell) dated 4/15/1935
Another West Texas Pioneer passed Monday night with the death of R. F. Hester, resident of Dawson and Lynn Counties since 1903. Funeral services were conducted Wednesday morning at the Southside Baptist church with Rev. J. P. Aslin in charge. Interment was made in the cemetery at Lamesa.
Mr. Hester had been in poor health for several years, but had been confined to his bed for the past twelve weeks, suffering from a complication of disorders due largely to his advanced age.
He was born in southwestern Missouri on October 10, 1857. His parents came to Texas a year later and settled in Bell county, near Salado. It was in this section that Mr. Hester grew to manhood, coming west to the Plains country in the early days of it settlement. The old Hester homestead, which is still the family seat, was a landmark for many years, and old time residents remember it as the scene of numerous happy community gatherings.
Until ill health prevented, Mr. Hester was a leader in civic enterprises in his community, and was always a supporter of every move for improvement and progress.
He is survived by his wife and nine children, who are Mmes. W. W. Williams, Viola Roberson, J. E. Stockton, G. D. Owens and Weldon White, all of O'Donnell, Messrs J. J. Hester of Brownfield, A. L. Hester of Los Angeles, Calif., E. W. Hester of O'Donnell and W. L. Hester of El Paso, and by a number of grand-children and great-grand-Children.
The Index joins with other friends in extending sympathy to the bereaved family.
Ad blocker interference detected!
Wikia is a free-to-use site that makes money from advertising. We have a modified experience for viewers using ad blockers

Wikia is not accessible if you've made further modifications. Remove the custom ad blocker rule(s) and the page will load as expected.