Whitley County

,

Kentucky


Location in the state of Kentucky

Kentucky's location in the U.S.
Founded
January 17, 1818
Seat
Williamsburg
Area
 - Total
 - Land
 - Water

445 sq mi (1,153 km²)
440 sq mi (1,140 km²)
5 sq mi (13 km²), 1.12%
Population
 - (2000)
 - Density

35,865
82/sq mi (31/km²)
Time zone
Eastern: UTC-5/-4
Whitley County is a U.S. county located in the state of Kentucky. 2005 census projections list its population at 38,029[1]. The county seat is at Williamsburg6, though the largest city is Corbin. Whitley County is a limited dry county, meaning that sale of alcohol in the county is prohibited except in certain areas as voted on by the residents of the area. In the case of Whitley County, by the drink alcohol sales is permitted only in restaurants in the city of Corbin seating at least 100 diners and derive at least 70% of their total sales from food.
Whitley County was created on January 17, 1818 from adjacent Knox County [2]. In the years prior to its establishment as an independent county, many skirmishes were fought between native Indians and hunters and trappers in the area. The namesake of the county, Colonel William Whitley, is famous locally for fighting many of these battles within area, eventually driving them out of southeastern Kentucky and safeguarding the Wilderness Road, as well as for his service in the War of 1812, where he died at the Battle of the Thames. The county seat was situated in Williamsburg (also named for Colonel Whitley, in 1882) from the beginning, with the first court held at the home of the town's first resident, Samuel Cox [3].
Its rugged terrain, densely forested woodlands, and a history of conflict with local Indian tribes all combined to make for a very slow rate of growth in Whitley County. The development of the coal mining industry in the area towards the late 1800s spurred on population growth as poor families from neighboring states rushed in to the county and led to the formation of Corbin, still the largest city in Whitley County.
Law and Government
Edit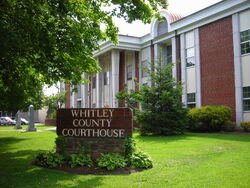 The current elected officials of Whitley County are listed as follows[4]:
County Judge/Executive: Pat White, Jr.
County Magistrate: Roger Wells
County Magistrate: David Myers
County Magistrate: Joe Moses
County Magistrate: Mike Baird
County Attorney: Paul Winchester
County Coroner: Andy Croley
County Treasurer: Jeffrey Gray
Sheriff: Lawrence Hodge
County Surveyor: Robert Moses
Property Valuation Administrator: Ronnie Moses
County Clerk: Kay Schwartz
Circuit Clerk: Gary Barton
Geography
Edit
According to the U.S. Census Bureau, the county has a total area of 1,153 km² (445 sq mi). 1,140 km² (440 sq mi) of it is land and 13 km² (5 sq mi) of it (1.12%) is water.
Whitley County is located within the Cumberland Plateau of southeastern Kentucky, which is greatly overlapped by the broad Eastern Coal Field region of the state. Because of its location in the midst of Cumberland Mountains, elevations in the county range from 723 to 2220 feet (220 to 677 m) above sea level[5]. 38,000 acres (150 km²) of western Whitley County are preserved within the Daniel Boone National Forest. Cumberland Falls, located in Cumberland Falls State Resort Park, is the site of the largest waterfall in the Commonwealth of Kentucky. Both Daniel Boone Forest and Cumberland Falls State Park are operated by the Kentucky State Parks system, also located in the county. Two regionally significant waterways meander through the county, namely the Laurel and Cumberland river.
Geographic features
Edit
Major Highways
Edit
State highways

Kentucky Highway 11
Kentucky Highway 26
Kentucky Highway 90
Kentucky Highway 92
Kentucky Highway 312
Kentucky Highway 904
Kentucky Highway 1193
Adjacent counties
Edit
Whitley County's economy has always relied heavily on its natural resources, particularly coal and timber, as the area's heavily forested, mountainous terrain contains abundant sources of such material. Other resources worked in the area include iron, oil, and very small amounts of silver. Due to the rough territory created by the Cumberland Mountains, agriculture in the county has historically been quite stunted, although tobacco and corn are grown in some areas.
Demographics
Edit
Historical populations
Census
Pop.
%±
1820
2,340

—

1830
3,806

62.6

%
1840
4,673

22.8

%
1850
7,447

59.4

%
1860
7,762

4.2

%
1870
8,278

6.6

%
1880
12,000

45.0

%
1890
17,590

46.6

%
1900
25,015

42.2

%
1910
31,982

27.9

%
1920
27,749

−13.2

%
1930
29,730

7.1

%
1940
33,186

11.6

%
1950
31,940

−3.8

%
1960
25,815

−19.2

%
1970
24,145

−6.5

%
1980
33,396

38.3

%
1990
33,326

−0.2

%
2000
35,865

7.6

%
http://ukcc.uky.edu/~census/21235.txt
As of the census² of 2000, there were 35,865 people, 13,780 households, and 9,894 families residing in the county. The population density was 31/km² (82/sq mi). There were 15,288 housing units at an average density of 13/km² (35/sq mi). The racial makeup of the county was 98.37% White, 0.34% Black or African American, 0.23% Native American, 0.20% Asian, 0.01% Pacific Islander, 0.09% from other races, and 0.76% from two or more races. 0.69% of the population were Hispanic or Latino of any race.
There were 13,780 households out of which 33.70% had children under the age of 18 living with them, 54.90% were married couples living together, 13.00% had a female householder with no husband present, and 28.20% were non-families. 25.20% of all households were made up of individuals and 10.20% had someone living alone who was 65 years of age or older. The average household size was 2.52 and the average family size was 3.01.
In the county the population was spread out with 25.80% under the age of 18, 10.80% from 18 to 24, 27.30% from 25 to 44, 23.20% from 45 to 64, and 12.90% who were 65 years of age or older. The median age was 35 years. For every 100 females there were 93.30 males. For every 100 females age 18 and over, there were 89.60 males.
The median income for a household in the county was $22,075, and the median income for a family was $27,871. Males had a median income of $26,518 versus $17,001 for females. The per capita income for the county was $12,777. About 21.60% of families and 26.40% of the population were below the poverty line, including 34.10% of those under age 18 and 19.00% of those age 65 or over.
Cities and towns
Edit
Incorporated
Edit
Other communities
Edit
Colleges and universities
Edit
The University of the Cumberlands (formerly known as Cumberland College), located in Williamsburg, is the largest private university in Kentucky, and the only private university in Whitley County. (Eastern Kentucky University has a branch campus in Corbin). The school's sports teams play on the NAIA level and provide college level sporting events for the local community.
W38, Williamsburg-Whitley County Airport
See also
Edit
External link
Edit
Coordinates: 36°46′N 84°09′W / 36.76, -84.15
Ad blocker interference detected!
Wikia is a free-to-use site that makes money from advertising. We have a modified experience for viewers using ad blockers

Wikia is not accessible if you've made further modifications. Remove the custom ad blocker rule(s) and the page will load as expected.