Whitman County is a county located in the U.S. state of Washington. As of the 2010 census, the population was 44,776, with the majority living in its largest city, Pullman, home to Washington State University, the state's land-grant university. The county seat is at Colfax.
Whitman County was formed out of Stevens County on November 29, 1871.[1] It is named after Marcus Whitman, a Presbyterian missionary who, with his wife Narcissa, was killed in 1847 by members of the Cayuse tribe.
Geography
Edit
According to the U.S. Census Bureau, the county has a total area of 2,178 square miles (5,640 km²), of which 2,159 square miles (5,593 km²) is land and 18 square miles (47 km²) (0.84%) is water. Whitman County is part of the Palouse, a wide and rolling prairie-like region of the middle Columbia basin.
Geographic features
Edit
Rivers
Lakes and reservoirs
Summits and peaks
Notable parks
Adjacent counties
Edit
Highways
Edit
Demographics
Edit
Historical populations
Census
Pop.
%±
1880
7,014

—

1890
19,109

172.4

%
1900
25,360

32.7

%
1910
33,280

31.2

%
1920
31,323

−5.9

%
1930
28,014

−10.6

%
1940
27,221

−2.8

%
1950
32,469

19.3

%
1960
31,263

−3.7

%
1970
37,900

21.2

%
1980
40,103

5.8

%
1990
38,775

−3.3

%
2000
40,740

5.1

%
2010
44,776

9.9

%
sources:[2]
As of the census[4] of 2000, there were 40,740 people, 15,257 households, and 8,055 families residing in the county. The population density was 19 people per square mile (7/km²). There were 16,676 housing units at an average density of 8 per square mile (3/km²). The racial makeup of the county was 88.07% White, 1.53% Black or African American, 0.73% Native American, 5.55% Asian, 0.27% Pacific Islander, 1.22% from other races, and 2.63% from two or more races. 2.99% of the population were Hispanic or Latino of any race. 21.9% were of German, 9.8% English, 8.6% Irish, 8.3% United States or American and 6.6% Norwegian ancestry according to Census 2000.
There were 15,257 households out of which 24.60% had children under the age of 18 living with them, 44.20% were married couples living together, 6.20% had a female householder with no husband present, and 47.20% were non-families. 29.40% of all households were made up of individuals and 7.10% had someone living alone who was 65 years of age or older. The average household size was 2.31 and the average family size was 2.91.
In the county, the population was spread out with 18.10% under the age of 18, 32.60% from 18 to 24, 24.00% from 25 to 44, 16.00% from 45 to 64, and 9.20% who were 65 years of age or older. The median age was 25 years. For every 100 females there were 102.50 males. For every 100 females age 18 and over, there were 101.90 males.
The median income for a household in the county was $28,584, and the median income for a family was $44,830. Males had a median income of $33,381 versus $27,046 for females. The per capita income for the county was $15,298. About 11.00% of families and 25.60% of the population were below the poverty line, including 16.50% of those under age 18 and 5.50% of those age 65 or over.
Agriculture & Business
Edit
Whitman County has highly productive agriculture. According to Heart of Washington, Whitman County produces more barley, wheat, dry peas, and lentils than any other county in the United States.[5]
The county is also home to Schweitzer Engineering Laboratories in Pullman.
Census-recognized communities
Edit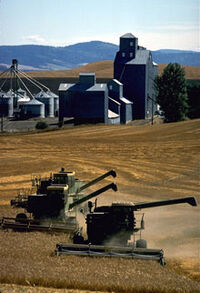 Other communities
Edit
Ghost Towns
Edit
Politics
Edit
The county is traditionally Republican, and as part of Washington's 5th congressional district it is represented by Republican Cathy McMorris Rodgers. Whitman was one of only three counties in the state to be won by Barry Goldwater in 1964. Since that election, the county has been won by the winning candidate in all but one presidential election, 1976. Richard Nixon, Ronald Reagan, Bill Clinton, and George W. Bush all won the county twice. In 2008, Barack Obama received 51.57% of the Whitman County vote.[6]
References
Edit
External links
Edit
Coordinates: 46°53′N 117°31′W / 46.89, -117.52
Ad blocker interference detected!
Wikia is a free-to-use site that makes money from advertising. We have a modified experience for viewers using ad blockers

Wikia is not accessible if you've made further modifications. Remove the custom ad blocker rule(s) and the page will load as expected.