Biography
Edit
Lee was born in Petersburg, Independent Cities, Virginia to William Crawford Bonner (1900-1988)
and Ruth Louise Allen (1903-1985)
. In 1930 the Bonner family lived in the town of Colonial Heights in Chesterfield County, Virginia. Just a few years later they moved back to where W.C. (William Crawford Bonner, Sr.) grew up at, in Aurora, Beaufort County, North Carolina.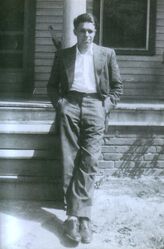 In the late 1940's, during World War II, Lee joined the United States Navy. After returning from the Navy, he married Lois Jeanette Cayton (1933-2007), the daughter of Henry Wade Cayton (1879-1944)
and Vivian Courtney Cratch (1906-1972) in 01 Apr 1949, living in his parents home in Aurora. It was there that they had their first child, Steven Lee "Steve" Bonner in the Beaufort County seat, Washington.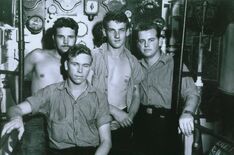 About a year later Lee moved his family to Portsmouth, Virginia where he was a machinist in the Norfolk Naval Shipyard. Over the next five years he and Lois had two more children, William Kelly "Butch" Bonner and Timothy Wade "Tim" Bonner.
Lee was a quite man, with not much to say, but those who knew him loved him. He lived the rest of his life in Portsmouth but when his children were younger, he would return to Aurora once a year on his vacation to go fishing with his children, father, brothers and nephews. Lee died in 1987 of lung cancer in Portsmouth, Virginia. He was interred in Oak Grove Cemetery, Portsmouth, Virginia.