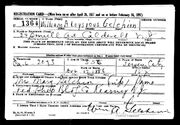 William Aloysius Gelchion (1886-?) was an inspector for the U.S. Steel Corporation in 1918 (b. August 17, 1886; Jersey City, Hudson County, New Jersey, USA - d. after 1943; Jersey City, Hudson County, New Jersey, USA)
World War I draft
Edit
He registered for the draft on June 05, 1917 while living at 150 Virginia Avenue, Jersey City, Hudson County, New Jersey. He worked as an inspector for the U.S. Steel Corporation, at 30 Church Street. He was married.
World War II draft
Edit
He registered for the draft.
Ad blocker interference detected!
Wikia is a free-to-use site that makes money from advertising. We have a modified experience for viewers using ad blockers

Wikia is not accessible if you've made further modifications. Remove the custom ad blocker rule(s) and the page will load as expected.