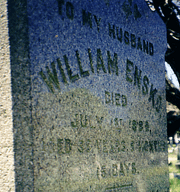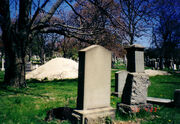 William Arthur Ensko II (1850-1889) Clerk in Office (b. September 12, 1850, Manhattan, New York City, New York County, New York, USA - d. July 01, 1889, 11:30 am, Manhattan, New York City, New York County, New York, USA)
He was born on September 12, 1850 according to his son's passport application.
On July 05, 1876, he married Eloise Lindauer I (1852-1942).
Manhattan
Edit
In 1870 William was living in a boarding house in Manhattan and working as a clerk. In 1880 he was living in Manhattan with Sophia Weber (1815-1891), his mother-in-law. In 1890 he was still listed in the Manhattan city directory as living at 301 West Houston Street.
Eloise Ensko wrote in the family bible the following: "Papa, died on Monday, July 01, 1889, and was conscious until 10 minutes before he died, which was half past 11 am, and was buried Wednesday, July 03, 1889."
He was buried in Cypress Hills in the Lindauer family plot with:
External links
Edit
Ad blocker interference detected!
Wikia is a free-to-use site that makes money from advertising. We have a modified experience for viewers using ad blockers

Wikia is not accessible if you've made further modifications. Remove the custom ad blocker rule(s) and the page will load as expected.