William B Smith
was born
13 March
1811
in
Royalton
,
Windsor County
,
Vermont
,
United States
to
Joseph Smith (1771-1840)
and
Lucy Mack (1775-1856)
and died
13 November
1893
in
Osterdock
,
Clayton County
,
Iowa
,
United States
of unspecified causes. He married
Caroline Amanda Grant (1814-1845)
14 February 1833 in
Kirtland
,
Geauga County
,
Ohio
,
United States
. He married
Roxie Ann Rosanna Grant (1825-1900)
19 May 1847 in
Knox County
,
Illinois
,
United States
. He married
Eliza Jane Sanborn (1827-1889)
12 November 1857 in
Kirtland
,
Lake County
,
Ohio
,
United States
. He married
Rosella Goyette (1830-1923)
21 December 1889 in
Kirtland
,
Lake County
,
Ohio
,
United States
. Notable ancestors include
Henry II of England (1133-1189)
,
William I of England (1027-1087)
,
Charlemagne (747-814)
,
Hugh Capet (c940-996)
,
Alfred the Great (849-899)
. Ancestors are from the
United States
, the
United Kingdom
,
England
,
France
,
Germany
,
Russia
,
Ukraine
,
Belgium
,
Spain
,
Portugal
,
Hungary
,
Israel
, the
Netherlands
,
Ireland
,
Italy
,
Turkey
, the
Byzantine Empire
,
Sweden
,
Belarus
.
Biography

One of the original Apostles of The Church of Jesus Christ of Latter-day Saints, brother to the Prophet Joseph Smith, and Patriarch to the Church.
Early Life
Born in Royalton, Vermont, Smith and his family suffered considerable financial problems and moved several times in the New England area. He was living in the home of his parents near Manchester, New York, when his brother Joseph reported that he had taken golden plates from the hill Cumorah.
He was at one time allowed to feel and lift the pages of the golden plates of The Book of Mormon through the pillow case Joseph kept them in. William was baptized into his brother's Church of Christ on June 9, 1830, by David Whitmer, one of the Three Witnesses to the golden plates.
Zions Camp Participant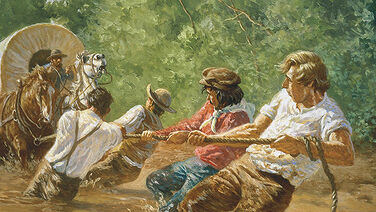 One of the most interesting episodes in the early history of LDS Church was the march of Zion's Camp (1834). The members of the Church in Missouri were being persecuted, and the Prophet Joseph made it a matter of prayer and received a revelation on February 24, 1834. The Lord instructed the Prophet to assemble at least one hundred young and middle-aged men and to go to the land of Zion, or Missouri. (See D&C 130:19–34.)
Zion's Camp, a group of approximately one hundred and fifty men, gathered at Kirtland, Ohio, in the spring of 1834 and marched to Jackson County, Missouri. By the time they reached Missouri, the camp had increased to approximately two hundred men.
He also accompanied Zion's Camp (1834) and practiced plural marriage. Attended the Kirtland Temple dedication and School of the Prophets. However, he was called to repent more than once for his rebellious spirit, he had many arguments and one fight with his brother Joseph the Prophet.
Quorum of 12 Apostles
Failure to fulfill his callings and persistant rebellion he was eventually disfellow-shipped and was removed from the Quorum of Twelve Apostles in for two weeks in May 1839.
Smith served a term in the Illinois General Assembly in 1842 and 1843, being elected to the Illinois House of Representatives as a representative of Hancock County. Smith ran in the election as a Democrat. His chief opponent was Thomas C. Sharp, an anti-Mormon Whig candidate. Smith won the election easily as a result of overwhelming Mormon support from voters in Nauvoo.
He was later restored to the Church, and after Hyrum Smith's death was called upon and set apart as Presiding Patriarch by Brigham Young where he issued several Patriarchal Blessings in Nauvoo. But soon he fell into apostacy and was excommunicated from the Church, being removed both from being apostle and patriarch of the church. (06 Oct 1845)
RLDS Church Era
He was one of several who sought the Presidency of the Church after the Prophet's death, even though it was known that he associated with apostate groups, eventually going to the Strangites and then Reorganites. He died the last living sibling of the Prophet.
As a result of Smith's excommunication, he did not follow Young and the majority of Latter Day Saints who settled in Utah Territory and established The Church of Jesus Christ of Latter-day Saints (LDS Church). Rather, Smith followed the leadership of James J. Strang and was involved with the Church of Jesus Christ of Latter Day Saints (Strangite).
In 1847, Smith announced that he was the new president of the Latter Day Saint church and that he held a right to leadership due to the doctrine of lineal succession. He excommunicated Young and the leadership of the LDS Church and announced that the Latter Day Saints who were not in apostasy by following Young should gather in Lee County, Illinois. In 1849, Smith gained the support of Lyman Wight, who led a small group of Latter Day Saints in Texas. However, Smith's church did not last, and within a few years it dissolved.
William moved to Wisconsin with wife(Eliza SANBORN d.1889IA)and later in 1858 Elkader, Iowa.

Smith's relationship with Young remained strained until Young's death in 1877. Smith believed that Young had arranged for William's older brother Samuel to be poisoned in 1844 to prevent his accession to the presidency of the church. However, in 1860, Smith wrote a letter to Young in stating that he desired to join the Latter-day Saints in the Salt Lake Valley. Shortly after sending the letter, Smith became involved as a soldier in the American Civil War, and after the war he did not show any interest in moving to Utah Territory.
In 1878, Smith became a member of the Reorganized Church of Jesus Christ of Latter Day Saints (RLDS Church), which was organized in 1860 with Smith's nephew, Joseph Smith III, as its leader. The majority of William Smith's followers also became members of the RLDS Church. While Smith believed that he was entitled to become the presiding patriarch or a member of the Council of Twelve Apostles of the RLDS Church, his nephew did not agree and William Smith remained a high priest in the RLDS Church for the remainder of his life. Today, the Community of Christ sometimes refers to Smith as "Petitioner for RLDS Patriarchate" from April 6, 1872, until his death.
In later years(c1890) he helped found a small Reorganized Church of the Latter Day Saints (Hdqt. Independence MO – Prarie Mormons) at Osterdock, Iowa at the site of Bethel Cemetery where he is buried.
Marriage and Family
Note that 3 of his four marriages were performed in Kirtland, Ohio. Originally part of Geauga County, Ohio until 1840 when it was split to form Lake County, Ohio. That will make a difference when you look up historical marriage, birth, death records, etc for his family.
1st Marriage: Caroline Amanda Grant
2nd Marriage: Roxie Ann Rosanna Grant
Roxie Ann Rosanna Grant (1825-1900) was the second wife married to William who was previously married to her older sister. Married William B Smith on May 19, 1847 in Knox IL; they had a son Hyrum Wallace and a daughter Thalia. Roxie was the 2nd of William's 4 wives. They divorced each other in bitterness in 1853.
Fannie Helen Smith (1872-) - older adopted child
3rd Marriage: Eliza Jane Sanborn (1827-1889)
4th Marriage: Rosella Goyette
Children
Siblings
Offspring of Joseph Smith Sr and Lucy Mack (1775-1856)
Name
Birth
Death
Joined with


Infant Smith (1797-1797)
1797 Tunbridge, Orange County, Vermont
1797 Tunbridge, Orange County, Vermont


Alvin Smith (1798-1823)
11 February 1798 Tunbridge, Orange County, Vermont
19 November 1823 Palmyra, Wayne County, New York


Hyrum Smith (1800-1844)
9 February 1800 Tunbridge, Orange County, Vermont
27 June 1844 Carthage Jail, Carthage, Hancock County, Illinois, United States
Jerusha Barden (1805-1837)
Mary Fielding (1801-1852)
Mercy Rachel Fielding (1807-1893)


Sophronia Smith (1803-1896)
17 May 1803 Tunbridge, Orange County, Vermont, United States
28 October 1876 Colchester, McDonough County, Illinois, United States
Calvin W. Stoddard (1801-1836)
William McCleary (1793-1846)


Joseph Smith (1805-1844)
23 December 1805 Sharon, Windsor County, Vermont
27 June 1844 Carthage Jail, Carthage, Hancock County, Illinois
Emma Hale (1804-1879)


Samuel Harrison Smith (1808-1844)
13 March 1808 Tunbridge, Orange County, Vermont, United States
1 August 1844 Nauvoo, Hancock County, Illinois, United States
Mary Bailey (1808-1841)
Levira Clark (1815-1883)


Ephraim Smith (1810-1810)
13 March 1810 Tunbridge, Orange County, Vermont
24 March 1810 Royalton, Windsor County, Vermont


William B Smith (1811-1893)
13 March 1811 Royalton, Windsor County, Vermont, United States
13 November 1893 Osterdock, Clayton County, Iowa, United States
Caroline Amanda Grant (1814-1845)
Roxie Ann Rosanna Grant (1825-1900)
Eliza Jane Sanborn (1827-1889)
Rosella Goyette (1830-1923)


Don Carlos Smith (1816-1841)
25 March 1816 Norwich, Windsor County, Vermont, United States
7 August 1841 Nauvoo, Hancock County, Illinois, United States
Agnes Moulton Coolbrith (1811-1876)


Lucy Smith (1821-1882)
18 July 1821 Manchester, Ontario County, New York, United States
9 December 1882 Colchester, McDonough County, Illinois, United States
Arthur Millikin (1817-1882)


Katherine Smith (1813-1900)
28 July 1813 Lebanon, Grafton County, New Hampshire, United States
2 February 1900 Fountain Green, Hancock County, Illinois, United States
Wilkins Jenkins Salisbury (1809-1853)
Joseph W Younger (1803-1900)

Namesakes of William B Smith (1811-1893)
| | | | | | |
| --- | --- | --- | --- | --- | --- |
| William Smith (1778-1856) | County Monaghan, Ireland | Wollongong, New South Wales, Australia | Andrew Smith (bef1778) | Catherine McConnor (bef1778) | Mary McGuire (1776-1856) |
| William Smith (1767-) | Kilmaurs, East Ayrshire, Scotland, United Kingdom | | William Smith (1731-) | Mary Steel (1735-) | Ann Parker (1771-) |
| William Smith (1707-1783) | Charlestown, Suffolk County, Massachusetts | Weymouth, Norfolk County, Massachusetts | William Smith (1666-1730) | Abigail Fowle (1679-1731) | Elizabeth Quincy (c1721-1775) |
| William Smith (1731-) | Kilmaurs, East Ayrshire, Scotland, United Kingdom | | Robert Smith (c1700-) | Agnes Smith (c1700-) | Mary Steel (1735-) |
| William Smith (1832-1876) | Burnt Forest, Wollongong, New South Wales, Australia | Bobundarah, New South Wales, Australia | Jeremiah Smith (1775-1848) | Sophia Akers (1795-1874) | Ann Norris (1838-1878) |
| William Smith (1666-1730) | Charlestown, Suffolk County, Massachusetts | Charlestown, Suffolk County, Massachusetts | Thomas Smith (1634-1690) | Sarah Boylston (1642-1711) | Abigail Fowle (1679-1731) |
| William Smith (1784-1865) | Warwickshire, England, United Kingdom | Pennant Hills, New South Wales, Australia | | | Isabella Brown (1790-1864) |
| William B Smith (1811-1893) | Royalton, Windsor County, Vermont, United States | Osterdock, Clayton County, Iowa, United States | Joseph Smith (1771-1840) | Lucy Mack (1775-1856) | Caroline Amanda Grant (1814-1845) + Roxie Ann Rosanna Grant (1825-1900) + Eliza Jane Sanborn (1827-1889) + Rosella Goyette (1830-1923) |
| William Edward Smith (1860-1931) | Walcha, New South Wales, Australia | Uralla, New South Wales, Australia | John Smith (c1808-) | Margaret Smith (c1830-1880) | Hannora Mary Jones (1865-1942) |
| William Edward Smith (1890-1917) | Walcha, New South Wales, Australia | France | William Edward Smith (1860-1931) | Hannora Mary Jones (1865-1942) | |
| William Henry Smith (1862-1942) | Little River, Braidwood, New South Wales, Australia | Burringeal, Gin Gin, New South Wales, Australia | William Smith (1832-1876) | Ann Norris (1838-1878) | Mary Jane Sullivan (1862-1948) |
| William Henry Smith (1882-1959) | Glen Morrison, New South Wales, Australia | Attunga, New South Wales, Australia | James Smith (c1855-1908) | Margaret Sutherland (1859-1918) | Jessie Catherine McKenzie (1883-1910)+Helena Ellen Bird (1883-1934)+Elsie May Bridge (?-?) |
| William Henry Smith (1825-1891) | | | William Henry Smith (1792-1865) | Mary Ann Cooper (-1851) | Emily Danvers, 1st Viscountess Hambleden (c1828-1913) |
| William Henry Smith (1854-1922) | Wollongong, New South Wales, Australia | Cooma, New South Wales, Australia | Thomas Smith (1814-1873) | Sarah Finnamore (1823-1908) | Margaret Day (1856-1928) |
| William Henry Smith (1825-1891) of Connecticut | | | | | Hannah M. Oatley (-1881) |
| William Henry Smith (1864-1934) | Little River, Braidwood, New South Wales, Australia | Newtown, New South Wales, Australia | Henry Smith (1835-1872) | Elizabeth Smith (1846-1885) | Eliza Lewin (1879) |
| William King Smith (1856-1951) | Chippendale, New South Wales, Australia | 17 Nicholson Street, Crows Nest, New South Wales, Australia | Edward Morehead Smith (1827-1883) | Elizabeth Leeder (c1834-1920) | Emily Jane Burless (1861-1949) |
| William Richard Smith (1818-1890) | Sydney, New South Wales, Australia | Oberon, New South Wales, Australia | Richard Smith (c1792-) | Frances Green (1797-1854) | Mary Ann Barsden (1824-1893) |
| William Robertson Smith (1846-1894) | Keig, Aberdeenshire, Scotland, United Kingdom | Cambridge, Cambridgeshire, England, United Kingdom | William Pirie Smith (1811-1890) | Jane Robertson (1821-1899) | |
| William Stephens Smith (1755-1816) | Long Island, New York, United States | Lebanon, New York, United States | John Smith (1735-1821) | Margaret Stephens (1733) | Abigail Amelia Adams (1765-1813) |
Footnotes (including sources)
Contributors