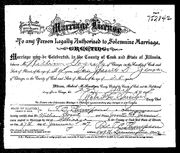 William J. Gogerty (1892-1939) Accountant at Telephone Company (b. October 20, 1892, Chicago, Cook County, Illinois, USA - d. May 07, 1939, Chicago, Cook County, Illinois, USA)
Son of Patrick J. Gogerty (1862-1949) and Ellen Parker (1865-1941) aka Helen Parker, who married on November 21, 1888.
He was born on October 20, 1892 in Chicago, Cook County, Illinois.
William had the following siblings: Grace Gogerty (1890-1972); Helen Gogerty (1895-1982); and Walter Gogerty (1905-1974).
In 1910 William is listed in the Chicago City Directory living at 4341 Carroll Avenue and working as a clerk. William filled out his draft card for World War I on June 05, 1917 while working at the Bell Telephone Company at 212 Washington Avenue in Chicago. He had blue eyes and light colored hair.
William married Josetta Dorothy Jensen (1889-1940) aka Dolly Jensen around 1917.
William and Josette appear in the 1930 Census renting from Josette's brother, Leif Jensen. The home was at 4932 West Austin Avenue in Chicago.
William died of heart attack in 1939. William's Illinois death certificate number was "14391". He was buried in All Saints Cemetery.
Widow: His widow died a year later.