William Richard John Cornelius
Sex:
Male
Birth:
25th September 1897
Death:
17th August 1962
Father:
James Cornelius
Mother:
Susan Seldon
Spouse/Partner:
Emily Prance
William Cornelius (known as Jack) was the youngest child of James Cornelius and Susan Seldon. His siblings were Edward, Henry and Elizabeth. He was born in Bristol on 25th September 1897.
Early Life
Edit
At the time of the 1901 census the family was living at 49 Vicarage Street in Barnstaple, Devon. Barnstaple was the birthplace of his mother. By the time he enlisted in the army he was living at 12 Vicarage Street in Barnstaple.[1]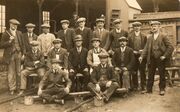 First World War
Edit
Jack served in the First World War as a private. In 1917 he was based in Luxor, Egypt. During the war he picked up a wound which contributed to his death.
Family Life
Edit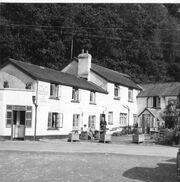 Jack met Emily Prance at The New Inn, Ilfracombe, where they both worked. This may have been prior to the First World War because Jack sent Emily a photograph of him in military uniform. They married on 6th June 1923 at the parish church in Marwood, Devon[2]. At the time, Jack was living at 42 Trinity Street, Barnstaple, and, like his father, James, was working as a baker.
On 3rd October 1933 their only child, John, was born. John was born at 21 Knole Road (presumably a maternity home as the family lived at 5 Beaulieu Road).
Boarding House, 'Barnstaple'
Edit
Jack and Emily established a boarding house, which they named Barnstaple, at 5 Beaulieu Road in Bournemouth.A visitors' book for the house was started on June 4th 1930. The first guest was a Mr and Mrs Coleman of the police station in Mosely, Birmingham, who described the house as "very comfortable and homely".
Jack and Emily's dream of running a boarding house was swept away by the outbreak of the Second World War. The final entry was by a Mrs Hunt and family on 1st September 1939. Bereft of visitors and unable to pay the building society mortgage, they suggested that the building society take over half of the property while they lived downstairs. However, the building society rejected the proposal and the house was repossessed.
Later Life
Edit
After the war Jack became a painter and decorator but an injury to his elbow caused by a fall from a ladder led to the loss of this job and a period unemployed.
Jack eventually became a hotel worker and at the end of his life was washing dishes in the kitchen.
On 16th July 1960, Jack attended the marriage of his son, John, to Ann Cooper, at St Mark's Church, Bournemouth.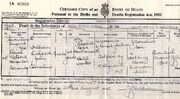 Jack died on 17th August 1962 in Boscombe Hospital, Bournemouth, due to renal failure and uraemia, caused by a wound picked up during the First World War.
Name
Birth
Death
Children of William Cornelius and Emily Prance




John Cornelius
3rd October 1933
21 Knole Road, Bournemouth
13th March 2003
Harrogate District Hospital
References
Edit