b. 11/17/1820 - d. 11/1/1898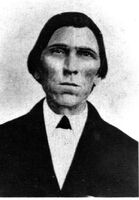 Biography
Edit
William Sanford Brown was born in the beautiful Collins River Valley of Warren County, Tennessee. He preached at least occasionally at Shiloh Methodist Church, before moving to the "Backbone" near Beersheba Springs, Tennessee in Grundy County, Tennessee on land that once belonged to his father-in-law Isham Dykes (1773-1871). As an early Methodist minister in this region, he rode a circuit that included several churches. He is buried at the Shiloh Methodist Church cemetery.
Contributors
Edit
External Links
Edit
Ad blocker interference detected!
Wikia is a free-to-use site that makes money from advertising. We have a modified experience for viewers using ad blockers

Wikia is not accessible if you've made further modifications. Remove the custom ad blocker rule(s) and the page will load as expected.