William Thomas Joint
was born circa
1864
in
Clifton
,
Bristol
,
England
,
United Kingdom
to
Thomas Joint (c1834-1911)
and
Theresa Oaten (1836-1918)
and died
1932
of unspecified causes. He married
Elizabeth (1860-)
. He married
Hannah Sophia Stickler (1871-1923)
29 April 1901 in
St. Mathews, Moorfields St. George
,
Bristol
,
England
,
United Kingdom
. Ancestors are from the
United Kingdom
.
William Thomas Joint was married twice; His first marriage was to Elizabeth, born 1860 in Axbridge, Somerset. They had two children, Thomas William born 1882 and Victor Francis born 1885. Elizabeth died before 1901.
William's second marriage was to Hannah Sophia Stickler from Pucklechurch Gloucestershire. Hannah was born in 1871; her father was Charles Stickler (1842-1892), a miner at the Parkfield Colliery, Pucklechurch. However he came from a long line of 'cordwainers' or showmakers. Hannahs mother, Sarah Everett born 1835, from Breadstone, Gloucestershire died in 1912 at Dunkerry Road, Bedminster, Bristol.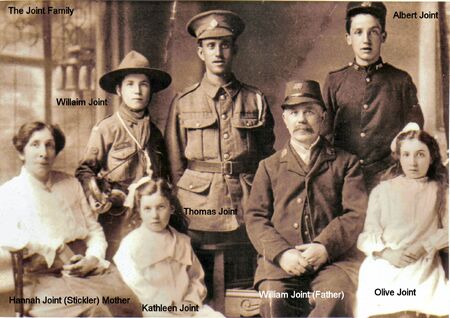 William and Hannahs wedding took place at St.Matthews, Moorfields, St.George, Bristol in 1901. In 1923 Hannah died of cancer and was buried in Greenbank Cemetery and shortly after William retired from his job as a postman. He was well thought of at the G.P.0. and received a number of letters from colleagues expressing their appreciation of his work there. 'Mr. Joint has earned his retirement by willing service on committees' says one letter, and ' he has taken a deep interest in the welfare of his colleagues, and the poor children of Bristol' states another.
William died in 1932 after being knocked down by a motorcycle in Gloucester Road, Bristol. He was walking across the road at the junction with Bryland Avenue, but stopped when he got to the first set of tramlines. He appeared to be undecided as to what to do and started to walk back. A motorcyclist was approaching and swerved to avoid him as he made an effort to reach the pavement. However, the motorcyclist collided with him. The cyclist was a Mr. Harold Bond of the Bombing Squadron, R.A.F. stationed at Filton Aerodrome. Dr. A.R. Williams of the Royal Infirmary said that death was due to shock from the injuries, accelerated by chronic myo-carditis of the heart. The coroner recorded a verdict of accidental death.
The tenancy of the house, 67 Dunkerry Rd., in which he and his family lived, was taken on jointly by his son William and his son-in-law Ernest Richards.


Children
Footnotes (including sources)
| | |
| --- | --- |
| ‡ General | Records and History predominantly searched out by John Richards of Bristol |