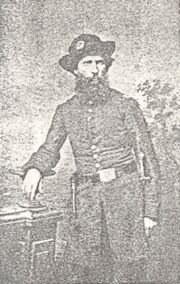 Genealogical Keynotes
Edit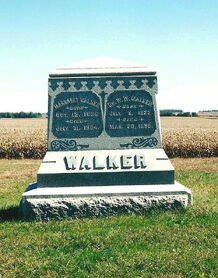 Born: July 8, 1822
Married: March 26, 1846
Died: March 20, 1890
Burial: New Hope Cemetery, Mason County, Illinois
William is the son of Joseph Culton Walker (1786-1842) and Christiana "Lucretia"  Fletcher (1790-1851) .
Spouse(s)
Edit
     Margaret is the daughter of Edward Eldridge (1790-1851) and Mary Gibbs (1796-1868).
Child List
Edit
Family History
Edit
Dr. William Wallace Walker was born in Kentucky on July 8, 1822; moved to Sangamon County, Illinois with his father in 1830; married Margaret Eldridge March 26, 1846: settled in Mason County, Illinois in 1860. Practiced medicine when the Civil War broke out; enlisted and became First Lieutenant of Illinois Volunteers; was in command of his company until the battle of Chickamauga, when he was obliged to resign on account of illness. He began the practice of medicine again and continued visiting his patient's until the last days of his life. Bad roads or uncertainty of his patient's ability to pay for his services, never kept him from performing his duty; was a very successful physician, honest and fair in all of his dealings and withal a gentleman. His wife was born in England; came to America with her parents when 9 months old. She was one of 15 children. Her parents both died in Menard County, Illinois. William and Margaret had 9 children, 6 of whom grew to maturity.
Alternative Interpretation
Edit
References
Edit
1. White, Emma Siggins, 1902. Descendants of John Walker of Wigton Scotland and Some Allied Families.
2.  Marriage license #286, Menard County Courthouse, Petersburg, Illinois.
Research Needs
Edit
Page Needs
Edit
Contributors
Edit
William Gorman (3rd Great Grandson)