Williamson County, Texas
Talk

0
149,611pages on
this wiki
Williamson County

,

Texas

The Williamson County Courthouse after its 2006-2007 renovation.


Seal


Location in the state of Texas

Texas's location in the U.S.
Founded
March 13, 1848
Seat
Georgetown
Area
 - Total
 - Land
 - Water

1,135 sq mi (2,940 km²)
1,123 sq mi (2,909 km²)
12 sq mi (31 km²), 1.05%
Population
 - (2010)
 - Density

422,679
394.2/sq mi (152/km²)
Website
wilco.org
Williamson County (sometimes abbreviated as "Wilco")[1] is a county located on the Edwards Plateau and Blackland Prairies in the U.S. state of Texas. It is part of the Austin-Round Rock metropolitan area.[2] The 2010 U.S. Census population for the county is 422,679. In 2009, the population was 410,686, a 57.7% increase from the 2000 figure.[3] Its county seat is Georgetown.[4] The county is named for Robert McAlpin Williamson (1806?-1859), a community leader and veteran of the Battle of San Jacinto.[5] He was also affectionately known as "Three Legged Willie" due to a childhood illness that withered his right leg which he pulled up behind this thigh and upon which we also wore a wooden leg extension.[5]
The majority of Williamson County lies to the east of the Balcones Escarpment (also known as the Balcones Fault) an area which is made up of black clay and sedimentary fertile soils. Much of this area is used for agriculture and for raising cattle. West of the Escarpment is the beginning of the Texas Hill Country characterized by rugged hills that consist of thin layers of soil lying on top of limestone.[6] Interstate 35 runs along the fault line dividing the two distinct regions.
Modern growth factors
Edit
Williamson County's fast growth rate is due in large part to its location immediately north of Austin coupled with Austin's rapid expansion northward. Austin's city limits cross into Williamson County making Austin the largest city in Williamson County. Most of the growth has been residential but also large employers, such as Dell's international headquarters, have changed Williamson County from just a bedroom community into a more vibrant community where its citizens can live and work in the same general vicinity. This has transformed Williamson county over recent years into a dynamic self-sustaining community with less dependency on Austin. Major retail and commercial developments began appearing from 1999 to present, including the Rivery in Georgetown, and the Premium Outlet Mall, the IKEA-area retail, and La Frontera in Round Rock. Health care and Higher Education have both become major factors in the growth of Williamson County as well. And a major significant factor has been the opening in of the North Loop 1 toll road and Texas State Highway 45 toll road which have made a major difference regarding the accessibility of Williamson County to and from Austin.
Prehistoric Williamson County
Edit
Much of Williamson County has been the site of human habitation for at least 11,200 years. The earliest known inhabitants of the area lived during the late Pleistocene (Ice Age), and are linked to the Clovis culture around 9,200 BCE (11,200 years old) based on evidence found at the much-studied Gault Site.[7] One of the most important discoveries in recent times is that of the ancient skeletal remains dubbed "The Leanderthal Lady" because of its age and proximity to Leander, Texas.[8] It was discovered by accident by the Texas Department of Transportation workers while drilling core samples for a new highway. The site has been extensively studied for many years and samples from this site carbon date to the Pleistocene period at approximately 10,500 years ago (9,500 BCE). Pre-historic and Archaic "open occupation" campsites are also found throughout the county along streams and other water sources including Brushy Creek in Round Rock and the San Gabriel River in Georgetown. Many such sites were inundated when the San Gabriel River was dammed to create Lake Granger.[9] These archeology dig sites show a much greater volume of evidence of Archaic Period inhabitants based on relics and flint tools recovered from burned rock middens.
The earliest known historical native American occupants, the Tonkawa, were a flint-working, hunting people who followed the buffalo on foot and periodically set fire to the prairie to aid them in their hunts. During the eighteenth century they made the transition to a horse culture and used firearms to a limited extent. After they were crowded out by white settlement, the Comanches continued to raid settlements in the county until the 1860s. There also appear to have been small numbers of Kiowa, Yojuane, Tawakoni, and Mayeye Indians living in the county at the time of the earliest Anglo settlements.[10]
History timeline
Edit
9000 BCE Archeological evidence identifies the Paleolithic inhabitants known as the Clovis lived in Central Texas including numerous Williamson County sites.[7]
4500 BCE Early native American inhabitants include Tonkawa, Lipan Apache, Kiowa, Comanche, Yojuane, Tawakoni, and Mayeye.[11][12][13][14]
1519-1685 Hernando Cortez and Alonso Álvarez de Pineda claim Texas for Spain *1528 Álvar Núñez Cabeza de Vaca expedition for Spain
1686-1689 Alonso De León expeditions for Spain.
1716 Louis Juchereau de St. Denis and Domingo Ramón, Spanish expedition name Brushy Creek "Rio de San Xavier" and the San Gabriel River "Arroyo de las Bendítas Ánimas".
1746-1755 San Xavier Missions - San Francisco Xavier de Horcasitas, San Ildefonso, and Nuestra Señora de la Candelaria, founded by Franciscan monks of Mexico to serve Central Texas Indians.[16]
1821 Mexico claims its independence from Spain. Anglos from the north settle in Texas and claim Mexican citizenship.
1836: March 2 - Texas Declaration of Independence from Mexico establishes the Republic of Texas. ::March 6 - Battle of the Alamo.[17] April 21–22 - Battle of San Jacinto, Antonio López de Santa Anna captured. May 14 - Santa Anna signs the Treaties of Velasco.
1838 Dr. Thomas Kenney establishes first civilian settlement named Kenney's Fort, on Brushy Creek.[18]
1839 Battle of Brushy Creek, last major Indian battle in Williamson County.[19]
1845, December 29 - Texas Annexation by the United States
1846, May 13 - The United States Congress officially declares war on Mexico.
1848: February 2 - Treaty of Guadalupe Hidalgo officially ends the Mexican-American War March 31 - Texas legislature establishes Williamson County, named for Robert McAlpin Williamson.[20] Georgetown is the county seat.
1861: County votes against secession from the Union. The issue of secession divides the county for the duration of the War. February 1, Texas secedes from the Union. March 2, Texas joins the Confederate States of America.
1870, March 30 - The United States Congress readmits Texas into the Union
1880's-1890's Migration to the county by Scandinavians, Germans, Czechs, Wends, and Austrians.
1909 Bartlett Colored School, the first Williamson County school for African American students opens.[21]
1911 Williamson County brick and stone courthouse built in Georgetown. Beaux-arts style. Architect Charles H. Page [22]
1918 Suffragette Jessie Daniel Ames of Georgetown leads a registration drive the adds 3,300 Williamson County women in time for the first primary in which they are eligible to vote.[23]
Important dates relating to slavery in Texas and Wiliamson County:
1829: Mexican President Vicente Ramon Guerrero, himself an ex-slave of Spanish, African and Native American descent, emancipates all slaves within the Republic of Mexico which includes the Mexican areas of Texas, including Williamson County.[24][25] In doing so Slavery is abolished in the republic.
1860: Williamson County Population of 3,638 whites and 891 slaves
1862: The Emancipation Proclamation is issued by United States President Abraham Lincoln during the American Civil War freeing most slaves in the United States.[26]
1865: (June 19)Major General Gordon Granger arrives in Galveston to announce and enforce the emancipation of all slaves. It has take six months for this news to reach Texas and is the first time African Americans in Texas know of the Emancipation. The date becomes celebrated annually in Texas as Juneteenth, and later as an official state holiday known as Emancipation Day.[27] On December 6 the The Thirteenth Amendment to the United States Constitution prohibits slavery.
1880: Date of the first known marked grave of a slave at Slave Burial Ground in Round Rock.[28]
1922: Future Governor of Texas Dan Moody, (born in Taylor 1893 - died 1966) the then district attorney of the 26th Judicial District in Williamson County, won state-wide notice by prosecuting a group for criminal activities allegedly connected with the Ku Klux Klan.[29] In the 1990s a book and then later a stage play were written by Williamson County District Attorney Ken Anderson called "You Can't Do That, Dan Moody" depicting the highly charged trial.
Geography
Edit
According to the U.S. Census Bureau, the county has a total area of 1,135 square miles (2,939 km²), of which 1,123 square miles (2,908 km²) is land and 12 square miles (31 km²) (1.05%) is water. The county is divided into two regions by the Balcones Escarpment, which runs through the center from north to south along a line from Jarrell to Georgetown to Round Rock. The western half of the county is an extension of the Western Plains and is considered to be within the eastern fringes of Texas Hill Countryand has an average elevation of 850 feet (260 m). It features undulating hilly brushland with an abundance of Texas Live Oak, Prickly Pear Cactus and Karst topography. Eastern region of the county is part of the Coastal Plains and is flat to gently rolling with an average elevation of just 600 feet (180 m). It consists of flatter land, with dark clay and rich fertile lands for agriculture, but is quickly being developed as the county's population continues to increase and expand out.[10] Williamson County is drained in the center and south by the San Gabriel River, which is the only river in the county, and in the north by creeks that run into the Lampasas and Little rivers north of the county line.[10]
Environmentally protected areas
Edit
Williamson County Conservation Foundation (WCCF). Formerly the Williamson County Karst Foundation, the Foundation was formed initially as the Northern Edwards Aquifer Resource Council (NEARC) by a small group of interested real estate individuls (including Don Martin, Bob Wunsch, Matt Harris, Terry Mitchell and Jim Boles) and landowners with the idea to obtain a United States Fish and Wildlife Service 10-A permit (known as an Incidental Take Permit)for the entire county by identifying and preserving a sufficient number of caves with endangered species to ensure survival of the species. Williamson County is home to five species that are listed as endangered. Three of the endangered species are karst invertebrates that live in karst areas. A karst is the name for the honeycomb type limestone formations (including caves, sinkholes and fissures) that are typical in the count's limestone geology west of Interstate 35. (The other two are songbirds protected by the Balcones Canyonlands Preserve. The group transferred the work on an Environmental Impact Statement to the county and a 10-A permit was issued in October 2008. Property owners are able to participate in the County's 10-A permit by applying through the WCCF at www.wilco.org/wccf.
Major highways
Edit
Minor highways
Edit
Adjacent counties
Edit
Demographics
Edit
Historical populations
Census
Pop.
%±
1900
38,072

—

1910
42,228

10.9

%
1920
42,934

1.7

%
1930
44,146

2.8

%
1940
41,698

−5.5

%
1950
38,853

−6.8

%
1960
35,044

−9.8

%
1970
37,305

6.5

%
1980
76,521

105.1

%
1990
139,551

82.4

%
2000
249,967

79.1

%
2010
442,679

77.1

%
As of the census[33] of 2000, there were 249,967 people, 86,766 households, and 66,983 families residing in the county. The population density was 223 people per square mile (86/km²). There were 90,325 housing units at an average density of 80 per square mile (31/km²). The racial makeup of the county was 82.41% White, 5.12% Black or African American, 0.45% Native American, 2.64% Asian, 0.08% Pacific Islander, 7.19% from other races, and 2.11% from two or more races. 17.20% of the population were Hispanic or Latino of any race. 17.9% were of German, 9.8% English, 8.8% American and 8.1% Irish ancestry according to Census 2000.
There were 86,766 households out of which 43.90% had children under the age of 18 living with them, 64.00% were married couples living together, 9.60% had a female householder with no husband present, and 22.80% were non-families. 17.60% of all households were made up of individuals and 4.60% had someone living alone who was 65 years of age or older. The average household size was 2.82 and the average family size was 3.21.
In the county, the population was spread out with 30.00% under the age of 18, 8.10% from 18 to 24, 35.60% from 25 to 44, 19.10% from 45 to 64, and 7.40% who were 65 years of age or older. The median age was 32 years. For every 100 females there were 99.30 males. For every 100 females age 18 and over, there were 96.70 males.
The median income for a household in the county was $60,642, and the median income for a family was $66,208. Males had a median income of $43,471 versus $30,558 for females. The per capita income for the county was $24,547. About 3.40% of families and 4.80% of the population were below the poverty line, including 5.40% of those under age 18 and 5.90% of those age 65 or over.
Sun City Texas
Edit
One of the most significant growth factors of modern day Williamson County is the location of a new Sun City community in Georgetown. Opened in June 1995, and originally named "Sun City Georgetown", Sun City Texas is a 5,300-acre (21 km2) age-restricted community located in Georgetown, approximately 10 miles (16 km) west of IH-35 on Andice Road (RR 2338). It is part of the chain of Sun City communities started by the Del Webb Corporation (now a division of Pulte Homes) [34] Residency is restricted to persons over age 55 (at least one person in a couple has to be 55 or older) and the community is generally oriented toward retirees.[35]
As originally planned the project would double the size of Georgetown's population.[36] Sun City Texas is made up mostly of single family dwellings, but also has duplexes. . The Sun City project includes three golf courses.(Legacy Hills, White Wing, and Cowan Creek)[35] Although the community attracts residents from all over the majority come from within Texas to stay close to their original home. There has been vocal opposition to the project at times, especially at the start during the zoning process, with arguments against the size of the community, its effect on Georgetown as a family-oriented town, concerns about the costs of providing city utilities, and concern about lowered city and Williamson County property taxes which are fixed for retirees under Texas law, and the disproportionate effect of City voting.
But by and large the community has been welcomed and well accepted into the Georgetown populace. In the 2008 city elections, for example, two residents of Sun City were the only two candidates for Mayor of Georgetown. They also were both formerly elected city council members.[37]
Communities
Edit
*unincorporated community
Austin is primarily in Travis County and Thorndale is primarily in Milam County. Bartlett lies on the line between Williamson and Bell counties. Cedar Park, Leander, and Round Rock extend into Travis County. Jollyville, Brushy Creek and Serenada are not communities as such but were census-designated
Economic development and business
Edit
Agriculture
Edit
Williamson County was an agrarian community for most of the 19th and early 20th centuries. The Chisholm Trail, a cattle trail that led from Texas to the railcenters in Kansas and Missouri, crossed through the both Round Rock and Georgetown. Cotton was the dominant crop in the area between the 1880s and the 1920s and Williamson County was the top producer of cotton in the State of Texas.[38] Primarily to transport bales of cotton, the county was served by two national railroads, the International-Great Northern Railroad, which eventually was merged into the Missouri Pacific, and the Missouri–Kansas–Texas Railroad. The town of Taylor in eastern Williamson County became the primary center for cotton production, cotton ginning (to remove the cotton seeds, and compressing the cotton into bales to transport by rail.
Other agriculture activities, farming and dairy were also a part of rural Williamson County east of the Balcones fault, and ranching occurred to the west in the Hill Country area. Both gradually gave way to more modern business, services, and retail as the overall area begin to become more urban. However, still today cattle ranching is a major business in some areas of the county, and cotton is still a significant crop east toward Hutto and Taylor.
Business today
Edit
Today the largest employer in Williamson County is Dell Computer Corp located in Round Rock, employing approximately 16,000 exployees. Retail and Health Care (including St.David's Hospital, Sott & White, the new Seton Williamson hospital, and the A&M Health Science center that opened in early 2010) are other major employers. Other than Dell, retail is perhaps the second most significant business group in the county. The new IKEA store and Premium Outlet Mall in Round Rock, as well as those located in the La Frontera mixed-use project in Round Rock (with approximately one million square feet of retail alone), are significant to the county. Wolf Ranch and The Rivery are also major retail centers located in Georgetown. In addition, Higher Education has a large positive effect on the county with the opening of the Texas State University Campus in Round Rock, the Round Rock Higher Education Center (RRHEC), and the new Austin Community College campus which opened in 2010—ACC's single largest campus—providing two-year degrees as well as training in the high tech sector.
County Courthouse
Edit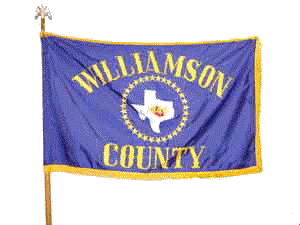 The current courthouse, built in 1911, is an example of Neoclassical Revival architecture.[39]| The courthouse has had a tumultuous past, surviving three major renovations and many modifications including the demolition of its key architectural features in 1966. With the assistance of the Texas Historical Commission and preservation-minded county citizens and officials, the courthouse was returned to its original 1911 state during a mjor 2006-2007 renovation, once again becoming a focal point of the county.[40]
Williamson County flag
Edit
The stars on the flag surrounding the state of Texas represent the thirty-three viable communities identified by Clara Stearns Scarbrough in her 1973 book, Land of Good Water. In 1970, these communities ranged in population from twenty people in Norman's Crossing to more than 10,000 residents in Taylor. It is difficult to establish how many communities exist in Williamson County today, because the determination of "community" is subjective and without set criteria. However, in Williamson County in 2004, there were 11 towns with populations of over 1,000 people and seven towns with populations above 5,000.
Government and politics
Edit
Commissioners Court
Edit
The Commissioners Court is the overall governing and management body of Williamson County. The Commissioners Court is responsible for all budgetary decisions and setting the tax rate each year. Among the duties of the Commissioners Court is administration of all the business of the County, including the building and maintenance of county roads and bridges. The use of a Commissioners Court as the governing body of county government is used in several US states, including Texas. The principal functions of the commissioners' court are legislative and executive. Although referred to as a court, commissioners' courts generally exercise only limited judicial powers.
The Commissioners Court consists of five members. The County Judge presides as chairman over the court, and is elected every four years by all voters in the county. Four Commissioners are elected by single-member precincts every four years. Currently, all five elected members of the Williamson County Commissioners Court are Republicans.
County Judge-Honorable Dan A. Gattis Precinct 1-Commissioner Lisa Birkman Precinct 2-Commissioner Cynthia Long Precinct 3-Commissioner Valerie Covey Precinct 4-Commissioner Ron Morrison
Congressional and state representation
Edit
By and large Williamson County is a strongly Republican county. As of 2009 there was only one elected Democratic officeholder (Diana Maldanado) who was subsequently defeated in 2010 after only one term in office.
Williamson County is located in Texas's 31st U.S. Congressional district which is represented by Congressman John Carter(R).
All of Williamson County is within Texas Senate District 5, and is represented by State Senator Steve Ogden (R). Both Carter and Ogden were easily reelected in November 2010.
Williamson County includes two Texas House of Representatives Districts: District 20 and District 52. District 20 is represented by Dan Gattis (R), who did not file for re-election in 2010. The winner of the Republican Primary Election for District 20 was Charles Schwertner (R) who was elected to the office in November 2010. There was no Democrat candidate. District 52 was represented by Democrat Diana Maldonado (D) until November 2010 when she was narrowly defeated by the Republican nominee Larry Gonzales.
Presidential election results
Edit
Williamson County was traditionally very solidly Democratic. In 1976 it voted for President Jimmy Carter by a higher percentage (55%) than did Travis County (52%). Since 1980 however that began to change increasingly to where by 2004 President George W. Bush won 68% in Williamson County while garnering only 42% in neighboring Travis County.
Newspapers
Edit
The newspapers that serve Williamson County include the Round Rock Leader, Williamson County Sun (Georgetown), Taylor Daily Press, Hutto News, Hill Country News (Leander), Liberty Hill Independent, and Tribune-Progress Bartlett).[41]
In 2005 'Community Impact Newspaper (founded by John Garrett formerly of the Austin Business Journal) became the first county-wide newspaper. Local editions are produced and written for certain geographical areas: Cedar Park/Leander; Georgetown/Hutto/Taylor; and Round Rock/Pflugerville.[42]
The Austin American-Statesman also has significant coverage in Williamson County as well.
Education
Edit
The following school districts serve Williamson County:
Higher education
Edit
Austin Community College also purchased a site in Leander, Texas in 2010 for an additional future Williamson County campus.
Notable residents
Edit
Sam Bass (1851–1878) Outlaw and train robber, killed in a famous shootout in Round Rock in 1878. The shootout is re-enacted once a year as part of the Old Settlers Day celebration in Round Rock.
Dan Moody. Daniel James Moody, Jr. (June 1, 1893 – May 22, 1966) was a US political figure and Democrat. Born in Taylor, Texas, he served as the 30th Governor of Texas between 1927 and 1931, and is best remembered in Texas history as a reformer and an opponent of the Ku Klux Klan as the District Attorney for Williamson County. At age 33, he was elected and served as the youngest Governor in Texas history.
Williamson County is depicted in the Coen Brothers movie Blood Simple.
The 1996 film Michael was shot principally in Georgetown and in and around Williamson County.
Thrall Flood
Edit
On September 9 and 10, 1921, the remnants of a hurricane moved over Williamson County. The center of the storm became stationary over Thrall, a small farming town in eastern Williamson County, dropping a storm total of 39.7 inches of rain in 36 hours.[47] The 24-hour rainfall total ending 7 AM on September 10, 1921 (38.2 inches) at a U.S. Weather Bureau station in Thrall remains the national official 24-hr rainfall record. Thrall rainfall was 23.4 inches during 6 hours, 31.8 in. during 12 hours, and 36.4 in. during 18 hours.[48] Eighty-seven people drowned in and near Taylor, and 93 in Williamson County.This storm caused the most deadly floods in Texas, with a total of 215 fatalities.
References
Edit
External links
Edit
Government & Non-Profit Sites
Blogs and other sites
30°39′20″N 97°35′02″W / 30.65551, -97.58390