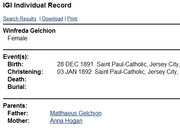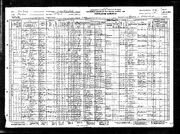 Winifred Gelchion (1891-1984) Housewife (b. December 28, 1891, Jersey City, Hudson County, New Jersey, USA - d. December 13, 1984, Fort Lauderdale, Broward County, Florida, 33328, USA) Social Security Number 140548063.
She was born on December 28, 1891.
Winifred was baptised on January 03, 1892 at Saint Paul's Roman Catholic Church at 14 Greenville Avenue in Jersey City and her godparents were: Joanne Yore; and Margaret Hogan, her maternal aunt. Her parents were listed as "Anna Hogan" and "Matthew Gelchion".
Her siblings include:
First marriage
Edit
Around 1918 she married John Furey (1895-1925). He was born in Ireland.
They had the following children:
Jersey City
Edit
In 1900 Winifred was living with her widowed mother at 138 McAdoo Avenue in Jersey City. In 1910 she was living at 64 Rose Avenue in Jersey City with her mother, and she was working at a curtain factory. In 1930 she was living on Danforth Avenue in Jersey City and working in a wire factory.
Second marriage
Edit
Her second husband was Francis Parks (1902-1988).
She died in 1984 in Florida and is presumed to be buried there.
Relationship
Edit
Winifred Gelchion (1891-1984) was the second cousin, twice removed of Richard Arthur Norton (1958- ).
Researched and written by Richard Arthur Norton (1958- ) for Findagrave starting on February 06, 2004.
External links
Edit
Ad blocker interference detected!
Wikia is a free-to-use site that makes money from advertising. We have a modified experience for viewers using ad blockers

Wikia is not accessible if you've made further modifications. Remove the custom ad blocker rule(s) and the page will load as expected.