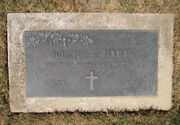 Biography
Edit
Yolanda Erlenia (French) Henning was the fourth child of Yolanda Christina Tandberg (1902-2003) and the sixth child of Joseph Nathaniel French I (1888-1975). Her two older half-sisters are Juanita Leslie (French) Murchie and Christina Lathe (French) Charles. Her sisters are Carolyn Alvilde (French) Kochajda and Natalie Joan (French) Cheatham. Her brother is Joseph Nathaniel French, Jr. Her maternal grandparents are Thorvald Martin Tandberg and Alvilde Marie Magdalene (Naess) Tandberg. Her paternal grandparents are Joseph Brown Morse French and Erlenia Husselton Matilda (Faulkner) French. She graduated from Thomas M Cooley High School in Detroit, Wayne, Michigan in January 22, 1953. She married Robert Charles Mills on November 23, 1955 at St. Christopher's Episcopal Church in Detroit, Wayne, Michigan. They had two children, Lori Carol Mills (1956- ) and Robert Christopher Mills (1957-1976). Yolanda and Robert were divorced when the children were young. On January 14, 1966 she married Edward Joseph McHugh in Las Vegas, Clark, Nevada. They had a daughter, Yolanda Catherine McHugh (1966- ). Yolanda and Edward were divorced when their daughter was quite young. On August 05, 1971 Yolanda married David Peter Henning, Sr (1932-2005). In doing so, she became a step-mother to Gloria Henning (1953-1986) and David Peter Henning, Jr (1958-1979). On July 09, 1976, following an auto accident at the intersection of Ann Arbor Trail and Inkster Road, Yolanda died at the University of Ann Arbor Hospital in Ann Arbor, Washtenaw, Michigan. The Rev. C.B.W. Maddock read the Burial Office for her on Monday, July 12, 1976 at 11:00 am at St. Paul's Memorial Episcopal Church in Detroit, Wayne, Michigan. She is buried at Roseland Cemetery. She was a gifted pianist and artist.
Ad blocker interference detected!
Wikia is a free-to-use site that makes money from advertising. We have a modified experience for viewers using ad blockers

Wikia is not accessible if you've made further modifications. Remove the custom ad blocker rule(s) and the page will load as expected.