Marie-Zénaïde-Zite Patenaude, (June 12, 1870 - May 21, 1959), known as Zenaide-Geneviève or affectionately known as "Jennie," was the fifth child of Charles-Gédéon Patenaude and Osithe Gamache. She immigrated to America at the age of 12, where her family relocated to Cohoes, New York.
Early years
Edit
Born in St-Herménégilde, outside of Coaticook, Quebec, Canada, Zenaide was the fourth daughter and fifth child born in the family. She was baptized by Rev. J.A DuFreneau July 9, 1870 at the Roman Catholic church of St-Edmond-de-Coaticook. Her godparents were Octove Blain, presumably a friend of the family, and Adeline Gamache, her maternal aunt.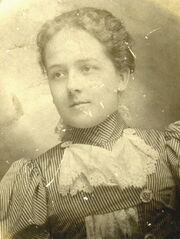 Zenaide's siblings were:
Marie-Febronie Patenaude (1863-1940)
Hormisdas Patenaude (1864-1881)
Marie-Lea Patenaude (1865-1926)
Marie-Edwidge Patenaude (1867-c. 1900)
Eugene-Joseph-Charles-Gédéon Patenaude (1872-c. 1920)
Henriette-Osithe Patenaude (1874-c. 1950)
Pierre-François Patenaude (1876-1876)
Joseph-François-Adelard Patenaude (1879-1880)
Unnamed Infant (1881-1881)
In 1876 the family moved from the rural area of St-Herménégilde into the village of Coaticook, about ten miles away. There Zenaide and her siblings attended the local school, while their parents were parishioners at St-Edmond. Charles, her father, worked as a day laborer in Coaticook, while her mother, Osithe, cared for the children and the daily chores at home.
Between 1876 and 1881 the family also experienced the loss of four children, including the first born son Hormisdas. These various losses in Quebec may have triggered the decision to immigrate to America.
Immigration and Marriage
Edit
In 1883 Zenaide, along with her parents, sisters Lea, Edwidge, and Henriette, and brother Eugene came to America and settled in Cohoes, New York. Several cousins of Zenaide's parents also resided in Cohoes, which may be the reasoning for them choosing to move there.
On May 19, 1889 Zenaide's mother died of Erysipelas. Her father soon married again on January 5, 1893 to Geraldine-Linde Parentele (née Chouinard). Zenaide herself married Paul Charron, a native of Cohoes, on October 24, 1900 in St. Joseph's Catholic Church of Cohoes.
Zenaide and Paul Charron had five children:
Arthur Anthony Charron (1901-1978)
Cecelia-Antoinette-Marie-Josephine Charron (1902-1946)
Alice-Henriette-Eugenie-Annette Charron (1904-1992)
Paul Edward Charron (1908-1991)
George Valmore Charron (1911-1971)
Ancestors
Edit
Four Generation Pedigree

Self

Parents

Grandparents

Great-grandparents

Zenaide Patenaude
Charles-Gédéon Patenaude
François Patenaude
Alexis Patenaude
Marie-Desanges Monty
Marguerite Cognac-Leveille
Barthelemy Cognac-Leveille
Marie-Charlotte Denicourt
Osithe Gamache
François-Maxime Gamache
Abraham-François Gamache
Marguerite Leblanc
Osite Martin
Nicolas Martin
Osite Giroux